As a brand, your online presence is critical to promote your business and to communicate with your audience. From your website to your social media channels, your message needs and must be cohesive. When it comes to advertising your products or services, you can choose from various methods including paid search (Google Adwords), paid search (Facebook and Instagram ads) or email marketing campaigns to mention a few.
The majority of companies use a combination of Paid Search, mostly through Google Adwords, and Paid Social. The latest is also widely used on its own with 65% of small to mid-sized businesses using this type of advertising to sell products directly to their consumers on social media. A good omnichannel strategy must include a combination of both.
Paid Search
During the awareness stage of the buyer's cycle, people use search engines to look up for more information about products or services before making a decision. When they do that, they usually type certain words associated with either a specific product, a category or a related topic. So, in order to appear on the first results, companies set up Paid Search campaigns that respond to those keywords and enquiries.
This type of advertising is great to drive traffic to your website without spending a lot of money. It works based on volume, so the secret for success is to have a robust keywords list that helps your brand to stand out in its category. Besides, Google is the leading search engine worldwide with 3.5 billion search queries a day. In fact, and according to Google, for every $1 a company spends on PPC ads, they make $8 back.
Paid Social
Since its creation, Facebook has become the king of social media, with more than 3 billion users, followed by its owned social media channel, Instagram, with +500 million users worldwide. At the moment, Paid Social is one of the most used ways for brands to promote their products and services. This type of advertising allows marketers to target specific individuals based on their likes, gender, age, and interests, to name a few.
"With Google ads, a lot of the time you get comparison shoppers. Whereas with Facebook, you get impulse shoppers. That allows you to sell products at a much higher price point if you work on other factors such as storytelling etc." – Jacky Chou from Indexsy.
Unlike Paid Search, your brand can create a more personalised and deeper engagement with your users by using social ads. Besides, Paid Social has a wide range of formats designed to reach specific audiences and goals – from website traffic, to attract new subscribers, or to improve social engagement, etc.
Most importantly, Paid Social is the right way for brand awareness when compared to Paid Search. Besides the option to run ads to reach this particular objective, every click that doesn't convert into a sale or sign-up is not lost. The beauty of social ads is that it can drive a sale but also generate a broader customer group through engaging and exciting content. This group can also be retargeted later on.
Results easily measured
The measurability of a Paid Social depends on the overall objectives of the campaign the marketer has set out. However, three major critical points are easily measured when marketers need to report on the effectiveness of a social ad campaign.
Return on ad spend is a quick way to understand the amount of revenue the social ad has generated to date compared to the amount spent.
Additional actions quantifying engagement rate (new followers, likes or shares) is also significant; marketers can derive a cost per action (CPA) to measure this further.
Engagement with websites. Check your website traffic source daily to see if social is bringing in new visitors.
5 examples of successful Paid Social campaigns
Creating a successful social ad campaign can be challenging at times. There is a lot of product information and different brands who want to grab the attention of a specific customer base. Here are five examples to inspire your brand to create an engaging paid social campaign.
ADOBE
In 2019, Adobe collaborated with Pantone, and they created a new series of glow colours called the Glowing Blue, Glowing Yellow and Glowing Purple. The ad was available on Twitter. The reason behind its great success was the powerful message about climate change. The new glowing colours created in partnership with the Ocean Agency were reminiscent of endangered corals as a result of rising ocean temperatures and pollution. The powerful message caught people's attention. The campaign was re-tweeted and liked many times, helping increase the brand and message awareness.
ADIDAS
With 229 million daily active users on Snapchat, Adidas saw the advertising opportunity to launch its new trainer, the Falcon W, exclusively on the platform. The social ad had great success: the shoes sold out in six hours and, according to the brand, sales potential reached 100%. Also, the effectiveness of this campaign shows the power of Paid Social and how important it is to target and reach the right audience.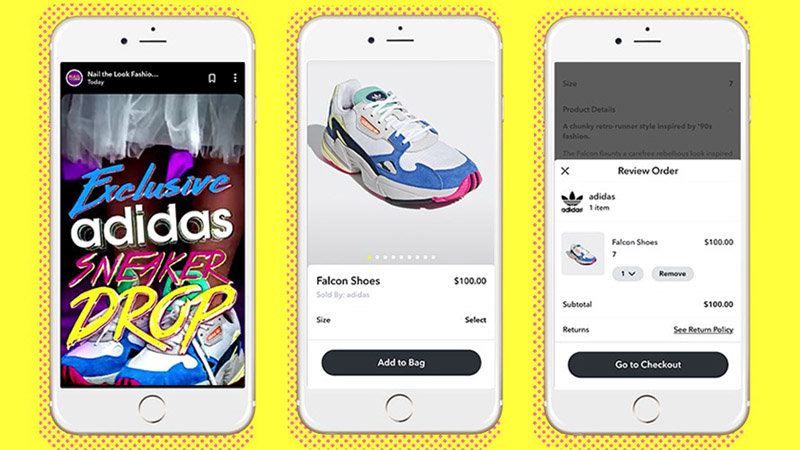 KAY JEWELERS
Video content is on the rise, and Kay Jewelers saw an opportunity to promote its new collection through this format. The ad tells a  moving story in only a few seconds, creating an emotional connection with the audience. The objective was to promote the Facebook Page of the brand by attracting new followers and their likes.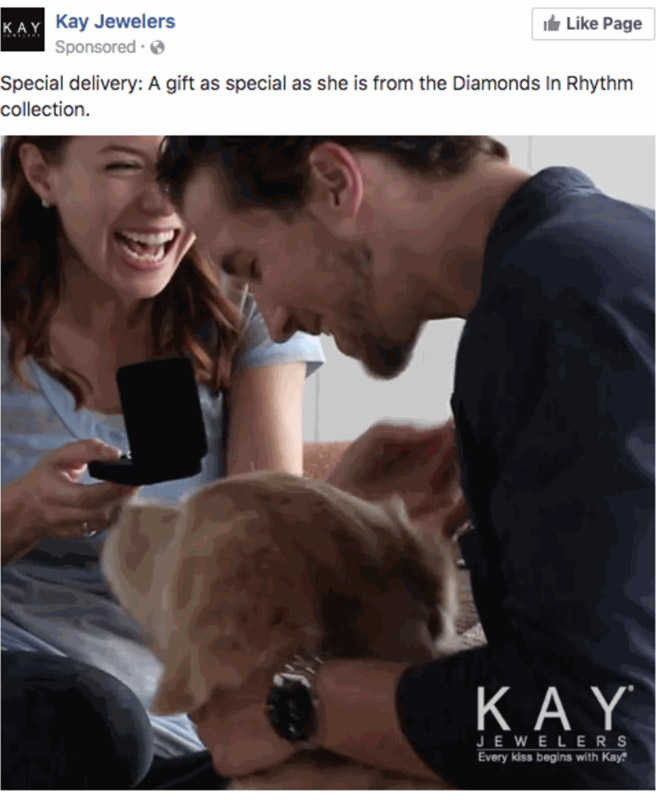 SPRING
The fashion e-commerce site Spring launched a Paid Social campaign to increase its app instalments by building credibility and social proof. The brand created a straightforward but powerful campaign using a review by the famous Vogue magazine. The ad drew attention and obtained over 1,600 likes, driving potential customers to download and install the app.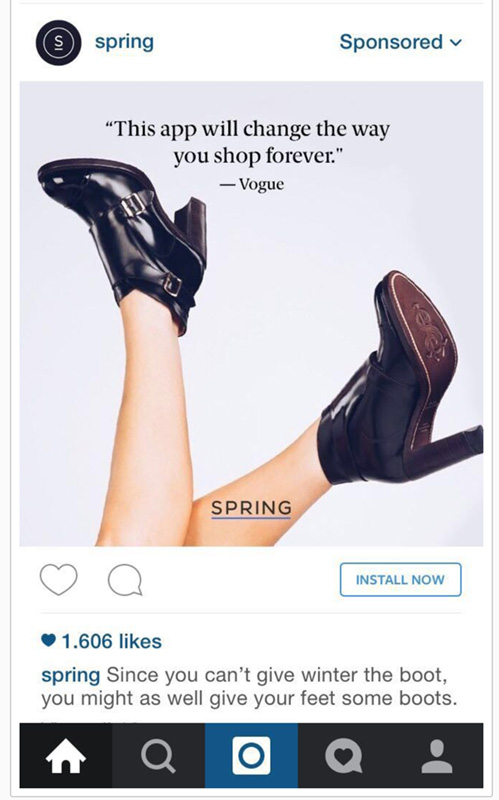 ELF COSMETICS
TikTok has now over 800 million active users worldwide. Elf cosmetics has recently launched a very successful social ad on the platform, and it is also one of the first brands to commission a song specifically for a TikTok campaign. "Eyes Lips Face" by the Kash Doll's fits perfectly with the campaign and the brand name's acronym ELF. To give the campaign a boost, the cosmetics giant decided to work with some influencers using the hashtag #eyeslipface, and its uses count is at 3.8 billion to date.
––––
Aleksandra Michniewicz specializes in content for a variety of industries like tech, lifestyle, fashion and finance.