With 77% of cart abandonment rate, over a third of consumers believe that eCommerce and retail brands should be using technologies to personalise and capture their shopping experiences. New immersive technologies like artificial intelligence (AI) and augmented reality (AR) can do just that for shoppers.
Over 80% of start-up and scale-up companies have invested in AI. It is estimated that this market will be worth €7.31 billion in 2023. These technologies can enable the customer to explore virtual showrooms, visualise and even try on products and seek styling advice from a virtual stylist. Fashion retailers and brands like Topshop and Hérmes have been known to invest in tech to showcase their runway shows during London Fashion Week.
InteliStyle is a London based tech company that provides Artificial Intelligence styling services to fashion retailers, helping them address the needs of people that are looking for fashion advice, whether it is online or in-store. The brand counts with a bold team of developers, designers and marketers to do that. It has been featured in Forbes, The Times personalisation report, and recognised with the Techstars and the 2018's Drapers Awards. We recently had the opportunity to interview Kostas Koukoravas, the founder and CEO of InteliStyle:
Can you explain how InteliStyle uses AI & data to deliver results for your clients?
"We crawl the web for thousands of images together with human stylists, on social media, fashion websites or fashion week catwalks. Then, we determine what looks good, and we use this information and knowledge to give advice to the retailers' customers. What it means is that our artificial intelligence styling system learns to understand the customer profile and the latest trends. All of that is integrated across various customer touchpoints through the entire shopping cycle."
"We are continually sourcing new images and building our database. Also, AI learning models need a lot of data. We not only analyse the images but also the associated text. The very first things that we start looking for are similarities. This allows us to create a unique identity for every piece of clothing. This is quite similar to the concept of the app Shazam where they have a unique signature for every piece of music out there. We basically do the same thing but for fashion. We use these signatures to understand how different items of clothing go well together."
How is AI technology applied?
"Our Artificial Intelligence Styling tech understands the different customers' style and optimises the retailers' purchase value. We also try to engage with the users, especially when trying to make them come back by having the right outfits suited to the customer across all of the touchpoints. What some retailers have started doing is turning their customer service agents into fashion stylists to help customers to find the right clothes, whether it is in a physical store or online. Other retailers have also started engaging with customers online, for example, using WhatsApp and helping them find clothes no matter the occasion. Additionally, retailers might also use this service to show tailored recommendations on their website. It all comes down to the different touchpoints and hence the service that is delivered."
How do you implement the service on the eCommerce experience?
"With eCommerce, you can use the service through either your website, Facebook messenger or WhatsApp. It allows customers to talk to an AI stylist and find the right clothes through a personalised experience. A lot of retailers have found that they can increase up to five times their purchase value by having an AI stylist talking to their customers. AI allows retailers to offer identity specific advice. The service is not only personalised to the customer but also to the brand identity. Each retailer might have different customer segments and may be representing a different customer identity."
How about the fashion world (online and offline)?
"I think it is already in these two strands: the use of personalisation to improve the user experience and customer support. AI is not replacing the human aspect of the experience, but supporting it and making it better. The best results are accomplished when you combine human empathy with artificial intelligence. Another advantage of using AI in the fashion world is its help with the supply chain and inventory management. AI enables for easier dynamic pricing and also allows you to understand better what inventory you should have, and the allocation of stock across different physical locations."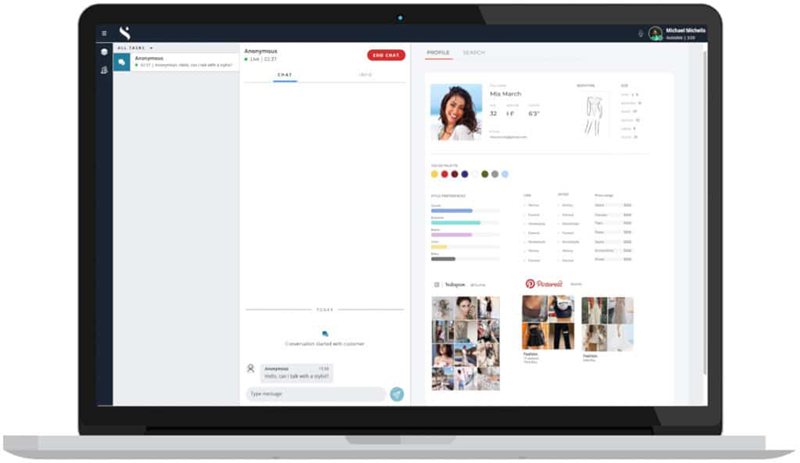 How does your acquisition strategy work in terms of branding and marketing strategy?
"We have started with content. Doing interviews and curating content that eventually got picked up by big publications such as Forbes. We try to generate the majority of our inbound traffic this way. We also try to get involved in a lot of corporate innovation programs that allow us to find retailers that are ready to make the transition to artificial intelligence styling services. With regards to social media, we have found that most of our customers tend to spend more time on LinkedIn, so we focus our activities there. We also attend conferences, competitions and newsworthy events like London Fashion Week to promote InteliStyle. Doing all of this helps with word-of-mouth marketing, whereby people post about us online."
InteliStyle: The future of AI & fashion after Covid-19
What inspired you to create InteliStyle?
"I started the business from a very personal perspective, looking to solve a personal problem. Whenever I went shopping, there wasn't styling advice available, unless you are a VIP customer. My background is in AI Product Management Software Engineering, and one day I thought: "maybe there is a way to use artificial intelligence to solve this problem and just give people some styling advice". Initially, InteliStyle started as an app that allowed users to style their own clothes. It really helped people to find new outfit ideas. As we grew as an app it made a lot of sense for us to start working with retailers. So right now, we help retailers address their customers' styling needs by providing virtual styling advice."
What's the company mission statement?
"It is quite simple, actually. We aim to personalise the experience for every customer by looking at variations like the person's skin tone, hair tone, body type and even personal preferences. Our mission is to help people find the clothes they look and feel great in, using a fashion personalisation platform."
What will be the future of fashion and the use of AI after Covid-19?
"We have certainly seen a lot of our clients freezing up and not willing to invest in innovation. But then again, we have seen another set of clients who see this as an opportunity to invest in innovation as they have to deal with less operational issues. Especially at the moment where we are living in a world where a lot of services are shifting online. In times like this, you really need to look at what is working best for your company and what is driving the most results."
––––––––––
Aleksandra Michniewicz specializes in content for a variety of industries like tech, lifestyle, fashion and finance.