There is no doubt that content marketing is an integral part of every marketing strategy. Most marketers are familiar with the term "content is king", and there is a reason why this has become widely popular across any brands' long-term marketing plan. Over 60% of marketers create at least one piece of content each day. Consistency is critical to building a successful content strategy that will drive traffic and, ultimately, will impact the buyer journey.
To understand how content marketing educates consumers to make better purchase decisions, here are some statistics that show how important it is for the majority of companies:
Content Marketing – The catalyst behind customer education
Some consumers may be against the idea of marketing influencing their purchase decisions, especially during this time, where most households try to curtail their spending and save more. Most of us are subscribed to a monthly email newsletter from our favourite brands or follow their social media channels.
Companies are continually attempting to expose us to their special offers or discounts, and the main aim of their strategy is to influence consumer behaviour on an emotional level, to encourage customers to complete a purchase. However, marketers need to make sure that their use of content marketing is only to inform and ethically support consumers' decisions. Therefore, the goal behind influencing the buyer journey should consist of increasing brand awareness and credibility.
Five ways content marketing can influence consumer's decisions
Educating a customer, when done right, can generate significant returns for the business. If your brand provides the information that the customers are looking for –during the research phase– your credibility increases automatically. If this information also meets their expectations, it's more likely they will follow through with the final purchase decision.
According to Lyfe Marketing, an impressive 78% of consumers prefer getting to know a company via content marketing like articles rather than ads, and 70% believe that companies providing custom content are interested in building good relationships with them.
Here are five examples of how brands are using content marketing to educate their target audience and build a long-term relationship with their customers:
The world's largest furniture retailer has taken customer education to another level. Last year alone the total revenue of the company amounted to €41.3 billion, and their "How To" YouTube series on average receives 250,000 views per video. IKEA has seen growth year-over-year for more than a decade now. The company has successfully built a loyal customer base, and continue to educate them by using YouTube videos, blog posts and social media.
Their "How To" series consists of videos showing customers how to build their furniture. This video content shows that IKEA listened to their customers and took their feedback. The company also has a widely read blog section on its website, that further educates its customer by sharing trends and home decor articles.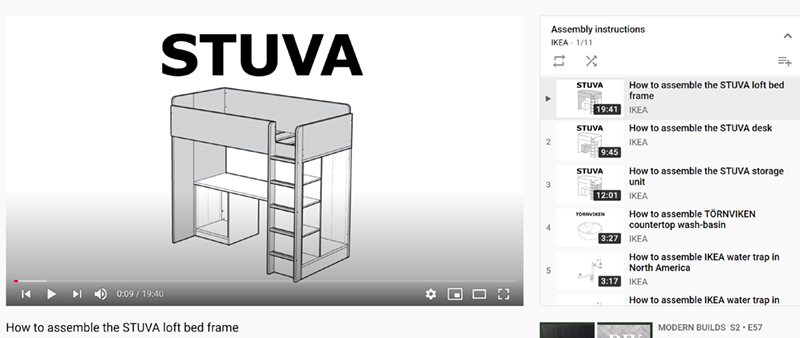 The lip-balm brand uses its content strategy not only to promote its products but also to bring awareness to important issues like the wellbeing of bees and its impact on the ecosystem. Their YouTube videos go back eight years now and have millions of views. Its video content includes the series "Burt Talks to the Bees" and others about the history of the company, purpose and practices. This strategy is extended to its blog and about us section showing how the brand is not only eco-friendly but socially conscious –an important feature to consider for consumers these days.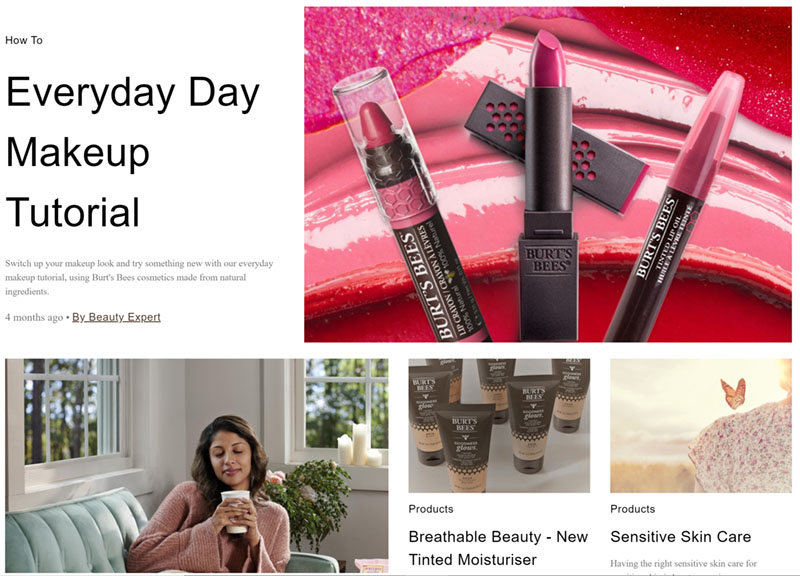 RIP CURL
The prestigious surfing apparel company dedicates its content marketing strategy to educate their customer base, specifically, via its blog known as "The Search". The blog features stories from surfers catching their best waves and giving advice to readers of where the best and worst spots for surfing are. The articles feature stunning photography and videos –by surfers for surfers. The brand takes on the approach of using surfing influencers to tell honest stories and communicate with customers enabling the brand to develop long-lasting relationships and attract more potential users.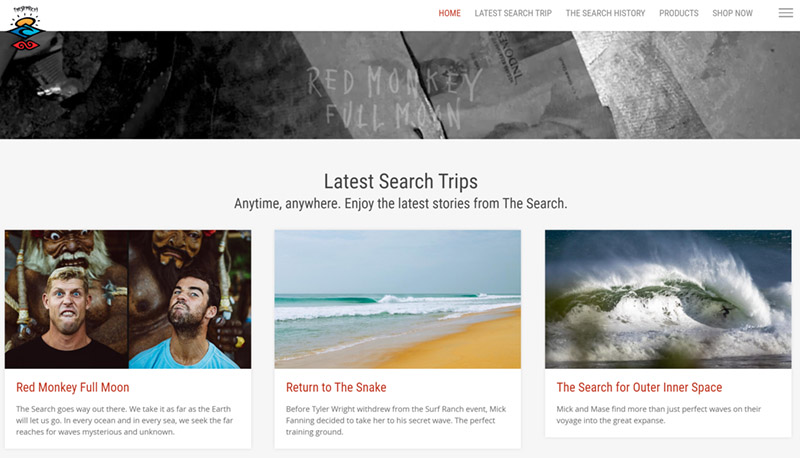 Recently, the outdoor adventure leader in action cameras reached 2 billion views on its YouTube channel. GoPro decided to celebrate this milestone by releasing a video called "2 Billion Views with YOU", a compilation of all user-generated content (UGC) showcasing the timeline of how the brand and the customers reach that milestone. GoPro is one of a few companies who are so uniquely able to integrate their customers directly into their content marketing strategy.
79% of consumers said that user-generated content profoundly impacts their purchasing decisions. In the case of GoPro, the branded content is minimum because the users' footages speak for themselves. No matter the activity, all the user-generated content coming from a GoPro is precisely what the brand needs to highlight its value proposition.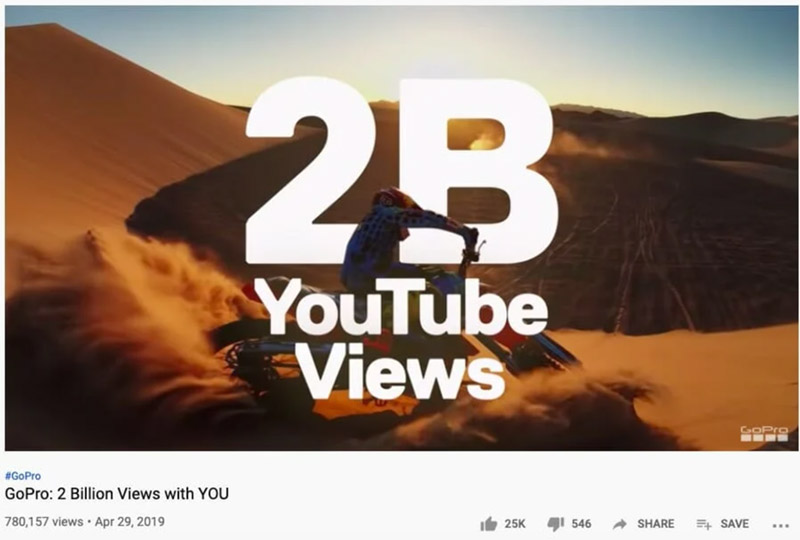 GLOSSIER
The beauty brand takes its community very seriously. Their content marketing strategy involves a lot of interaction with users on social media. Glossier is very good at not coming off salesy. Instead, they take the approach of allowing their customers to become brand advocates by having conversations and re-posting user-generated content.
Glossier actively likes and re-shares their customer's posts –and action that improves users' engagement and increases users' retention. According to Single Grain, just a 5% increase in retention can increase a company's revenue by 25-95%. Having recognition from a brand that you love is a big positive for consumers when making a purchase decision.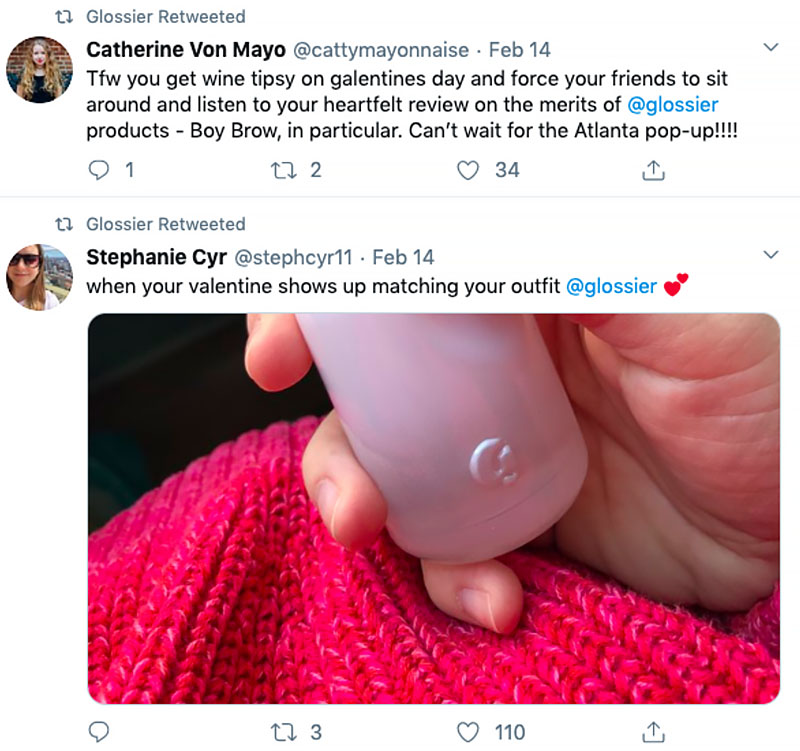 When it comes to educating customers and influencing their purchase journey, marketers need to maintain an ethical approach. Use your content marketing to highlight your business proposition and teach your potential customers why they might need your product or service before trying to complete a purchase. Walk your talk when it comes to content marketing; share useful and meaningful content –articles, resources, social media posts, videos– that connects on an emotional level with your potential users.
_________________
Aleksandra Michniewicz specializes in content for a variety of industries like tech, lifestyle, fashion and finance.