On the 5th of August 2020, Instagram launched its new feature 'Reels' globally. Since then, there have been countless articles published focusing on how to best help brands utilise Reels.
However, four months down the line and one of Facebooks' official partners, Dash Hudson, hosted a digital webinar "Reel Talk: Insight on Instagram's New Product Reels", specifically hosted for companies struggling to achieve the benefits of Reels.
Juliana Constantino, Creative Product Lead at Instagram and Lauren Kohli, Instagram Business Marketing, were the two main speakers at the webinar. Along with Michaela Atkinson, Head of Content at Dash Hudson, who spoke more about the feature and Q&A session at the end.
With that in mind, let's dive into some of the main highlights from the talk.
WHAT IS THE FUNCTION OF REELS?
The overall mission of Instagram and what the platform stands for is to bring the user closer to the people and things they love. With over 500 million daily active users, Instagram is one of the leading social media platforms where people come to express themselves, share their interests, likes and dislikes.
When it comes to Reels; however, what is the purpose behind this new feature? Well, according to the webinar, Reels is a place for creativity and entertainment. "With expression and discovery at the heart of Instagram, we created Reels so that anyone, people, creators and businesses can express themselves creatively and be discovered on Instagram's global stage" Lauren Kohli, Instagram Business Marketing.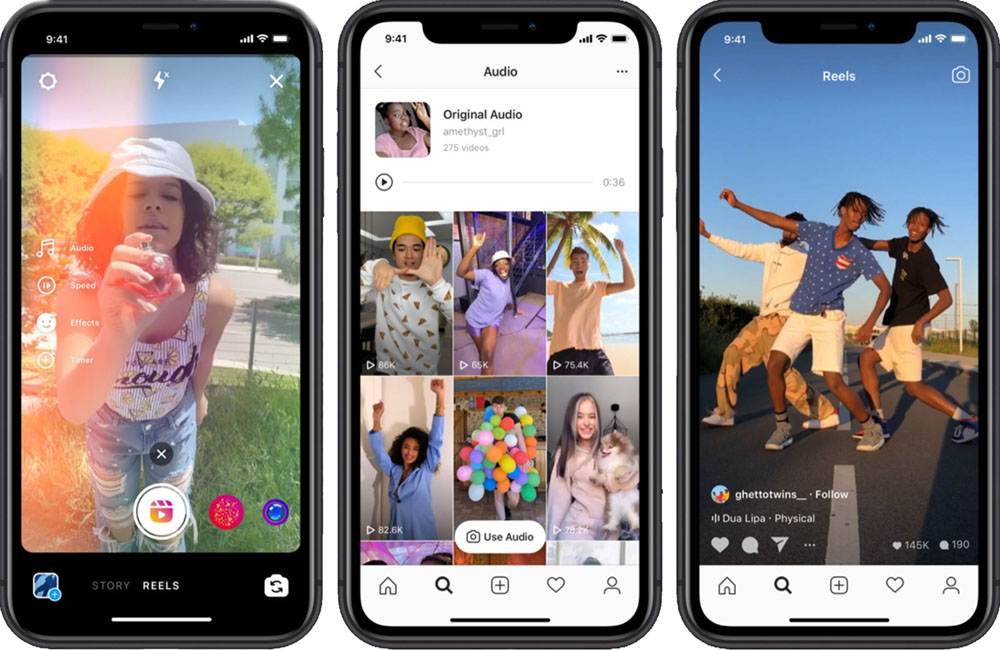 Apart from this, Instagram Reels is where the platforms' vibrant community celebrates immersive content and ideas. Additionally, Reels is as a new "unconnected surface". But what does this mean exactly? Lauren Kohli explains, "content is from people you may not follow, a place to entertain existing and new audiences, and be discovered on Instagram's global stage".
The way users consume Reels' content is also unique. Reels is all about the surprise element for the end-user; people come to Reels for quick entertainment. The way people consume content on Reels changes how brands, creators and users make the content, by using the different capabilities offered on Reels like music, AR and various editing tools.
5 TIPS FOR HOW YOUR BRAND CAN LEVERAGE REELS
From a business's perspective, Reels should be a place where brands are not afraid to be more relaxed and create fun videos. It is about unique content, but also to amaze your audience. Brands need to keep in mind that anyone can view Reels, whether you follow them or not. Thus, it is best to embrace that freedom and let millions of new users discover your content.
REACH NEW AUDIENCES IN A DISCOVERY MINDSET
First, when creating your Reel, it is encouraged to share them to the dedicated Reels tab. Additionally, to drive more discovery of your content, brands should also share it on their Stories. However, the Reels tab is critical to focus on, as this is where your video may appear in the trending content and be discovered by millions—resulting in real engagement for your brand.
USE THE MAGIC OF REELS TO CREATE VIDEOS THAT INSPIRE AND ENTERTAIN
The magic of Reels comes from the creative tools used to make and edit your Reels content. These include different AR effects, fonts and storylines. Additionally, apart from Reels enabling you to record videos, brands can also upload pre-recorded videos. For example, tutorial videos can be uploaded into Reels and edited within the app using the various magic tools.
MAKE IT EASY FOR YOUR COMMUNITY TO RECREATE
Content mimicry is something to keep in mind when creating your Reels video. Thus, when planning your content, think about how you can invite your audience to participate and recreate the video. When thinking about your brands call to action with a specific video, it is best to keep it simple. For example, invite users to share your hashtag when re-creating a dance.
PARTNER WITH INFLUENCERS TO EXPAND REACH AND TAP INTO THEIR CREATIVITY
The branded content tag makes this process a lot easier for brands. It is easy to indicate a paid partnership with influencers. It is highly encouraged to collaborate with popular creators on Reels to boost reach, engagement, and tap into the influencers' unique content style.
The Brazilian flip-flop brand Havaianas is an excellent example of Reels' right uses with its campaign "More Colourful Days". Through partnerships with influencers like @Diivadoblack, @Neyzona, @japanesee and @transdiario, the brand showcases the recent array of sandals from its new collection.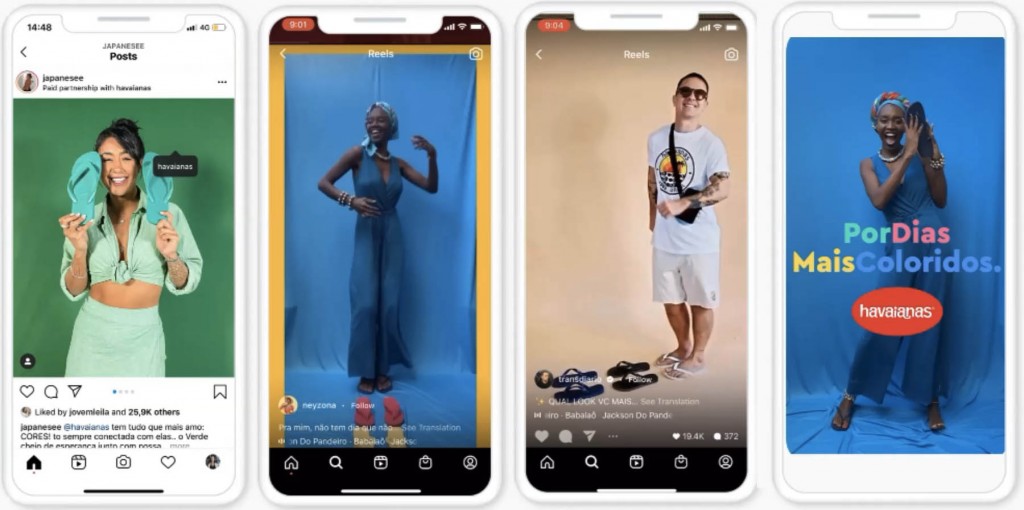 The influencers in the video do the trending "outfit change jump" with the flip-flops. It's all very well coordinated with great music. To date, some of the most successful Reels have over 500K views overall.
The campaign included the branded content tag with the various influencer profiles and influencers also uploaded the Reels to their accounts. Besides, promotional images are shared on the Instagram feed and Stories to reinforce the message's campaign.
ENCOURAGE PEOPLE TO SHOP YOUR PRODUCTS USING SHOPPING TAGS
Reels has only recently become fully shoppable. This new update is available for all sellers on Instagram (with or without Instagram Checkout) and all eligible creators. Shopping tags can now also act as a call to action, as they allow for additional product and brand discovery.
G-Star RAW, the Dutch denim brand, executed their new campaigns using Reels. Similarly to Havaianas, G-Star tapped into a diverse cast of influencers. The main focus behind this campaign, however, was Instagram Checkout.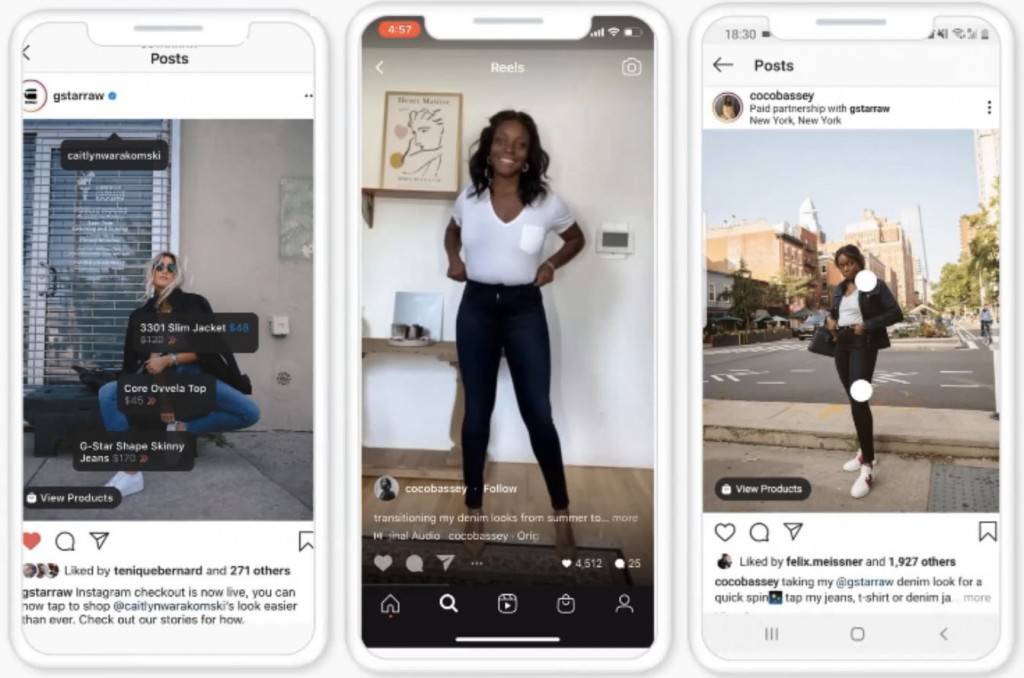 The denim brand wanted to communicate with their audience that shopping for their favourite denim is about getting a lot easier and more fun.
G-Star also focused on utilising the branded content tag, with the different influencers posting Reels, shoppable Image Posts and Stories to their accounts. On the @gstarraw account, the Reel has over 93 K views to date.
THE FUTURE OF REELS
The creative possibilities of Reels are endless, and exposure is one of them. Reels can be viewed through both the Reels and explore tab. It opens up new engagement possibilities for brands. When brands create content that makes users want to watch it again, like it, share it or re-create it, exposure increases substantially.
Co-creation is also essential for users on Reels. Being involved in the creative process is what encourages them to remember your brand. A good example of co-creation is when users reproduce a popular dance routine, and brands re-share it. Juliana Constantino adds, "Reels is a talent show where anyone can be the next big hit".
Music and Reel's editing tools (known as the Magic of Reels) also make the feature unique. The music element enables the audio of your Reels to become distinctively different from the rest. According to the webinar, "music equals the hashtag of the video world". Choosing the right song and AR effects, is vital to make your brand's Reels catchy, engaging and successful.
—
Looking to improve your social media and content strategy for 2021? Take a look at our Digital Marketing services, from advertising and SEO to content creation and email marketing. For more information, contact us.