According to Marketing Lead, video content, machine learning, AI and shoppable posts are amongst the top new tech social media trends to look out for in 2020. Facebook is still the most widely used social media platform, with 2.6 billion monthly active users. Last year companies saw continued growth and innovation in social media opportunities, with 70% of businesses in the UK alone using social media.
This year, brands have increasingly expanded their social media strategy to TikTok, Snapchat and new features like IGTV. For social marketers, it is essential to keep up to date with the latest formats, features and updates to capture the users' attention in a passing moment. Hence, we have combined a list of the most prominent new social media updates, for the most popular platforms of 2020.
FACEBOOK
INSTANT EXPERIENCE ADS
Instant experience ads formerly known as Canvas Ads, is a new feature that enables the user to access a full-screen experience, once the user clicks on your ad on a mobile device. According to Facebook, instant experience ads allow brands to:
Create an instant experience to highlight your brand or products and services visually
Grab the users' attention and get the full effect of the high-quality content. The ad loads instantly and expands to full-screen and works with most ad formats like the popular single image, video ad, carousel, slideshow and collection ads
Create and mark clear paths for the user, to make sure the objective of your ad is achieved by adding descriptive text, buttons and links
New metrics available that enable marketers to gain more insight into critical goals
MESSENGER ADS
Messenger ads were launched back in 2016. However, since then, there have been significant updates done to this ad feature on Facebook. Messenger ads are quite simple actually and work quite well. A user scrolling through their news feed interested in a messenger ad can simply message the brand directly by clicking the "send message" or "learn more" button.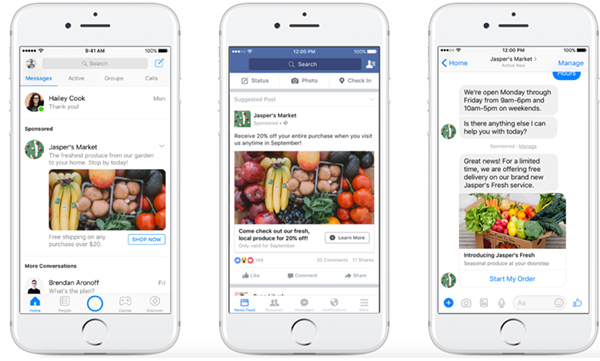 The three new update features for messenger ads include:
Icebreakers for commonly used questions like using the FAQ section in the messenger ad, to quickly and effortlessly reply to the user
Click to messenger ad update allows businesses that already have multiple Facebook apps connected to the messenger platform, to choose which app they want to use for their click to messenger ads
More reply options for users messaging businesses like the addition of emojis to react to a response, and threaded conversations so that brands can understand exactly the message a user is responding to
CREATOR STUDIO
Creator studio has recently undergone a series of updates and improvements, the main objective of this tool is to help social marketers manage, plan, schedule, analyze and monetize activities across all of their Facebook pages and Instagram accounts.
Creator study helps marketers to save a lot of valuable time that otherwise would need to be wasted on managing individual social accounts. Apart from this, creator studio is an excellent source of analytical data for your campaigns. It gives brands in-depth information on who your followers are, evaluate the efficiency of your social media strategy and where to make necessary alterations to your campaigns.
INSTAGRAM
STORY ADS
It is estimated that 500 million accounts are actively using Instagram stories and one-third of the most-viewed stories come from businesses. Open up Instagram right now and scroll through some stories; one in every ten stories is likely going to be an ad. With even luxury fashion brands like Louis Vuitton using Instagram stories to target the attention of a younger audience.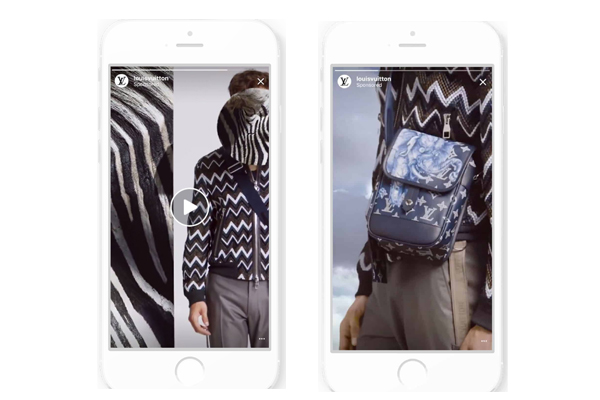 There are three significant new updates to Instagram stories so far this year:
New story stickers like the donation sticker, challenge sticker and DM me a sticker that can make for a more personalized and interactive experience for the user.
New Instagram story notifications, like the reposting notification when someone tagged another user or brand in their stories, which enables brands to utilize more user-generated content.
Updates for the creation story template which allows users and brands to play around with story posts even more. For example, the templates enable users to combine stickers, text and drawings without the necessity of using a photo or video in the background.
IGTV
Unlike stories, which disappears after 24 hours of posting, IGTV content occupies a permanent place on the users Instagram profile. IGTV also enables brands to create long-form video content (more than 60 seconds) and can be accessed under the explore tab, which more than half a billion users visit each month. Some of the major features released for IGTV recently include:
The release of a standalone app for IGTV. However, most users and brands still access IGTV through their Instagram accounts.
Instagram story previews which enable users to share their IGTV content to their Instagram stories and it will automatically generate a 15-second preview.
SHOPPABLE POSTS
This feature was first released in March 2019, but since has been updated. Shoppable posts enable online retailers to connect easier with Instagram users by allowing them to make purchases from the feed or stories without leaving the app. With the new updates, businesses can now tag up to five products per image, or twenty products per carousel. The shopping tags also contain product details like pricing and links to checkout. However, before brands begin to create shoppable posts on Instagram, marketers need to create a Facebook shop account to link to their Instagram account.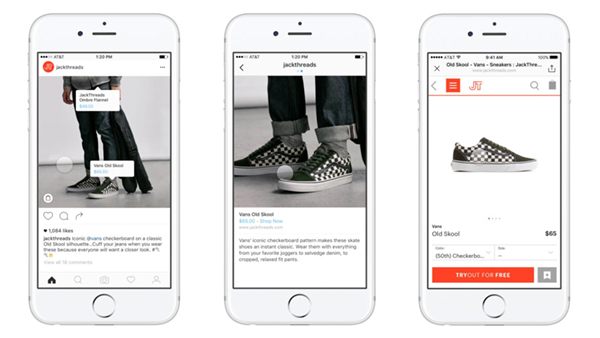 TIKTOK
E-COMMERCE CAPABILITIES
As of today, TikTok has 800 million active users worldwide. It was one of the fastest growing social media platforms ever. TikTok started testing shoppable video posts in 2019 according to Adweek, since then TikTok launched TikTok Ads and companies like Clean & Clear, Too Faced, Apple, Experian, Manscaped, Bumble and Chipotle were one of the first to start advertising on the platform. To set up an effective TikTok ad campaign marketers should check these points off the list:
Choose the objective of your campaign, eg. Traffic, app install, conversions etc.
Set your budget
Target the right audience
You can even monitor your ad analytics. All of the statistics can be accessed online on your TikTok Ads account dashboard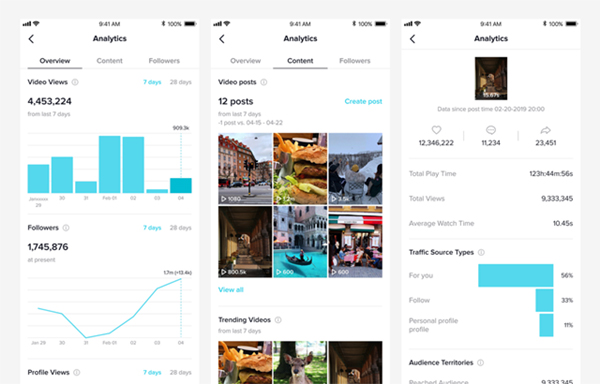 AD STUDIO
TikTok went all out for their first time creating an advertising tool for companies, as far as launching a separate app for brands to use known as the TikTok Ad Studio app. This creative tool allows brands to make unique videos by enabling features like the landing page to video and smart video soundtrack. You can also use the studio app to review your campaign before you post it by using the preview tool to view how your campaign will look on a mobile device.
CONNECT WITH INFLUENCERS
TikTok has also taught ahead when updating their discovery page, which allows brands to discover potential marketing influencers and identify users, videos, sounds and hashtags related to your business. For example, when looking for a potential influencer to collaborate with TikTok has made this super easy, all you have to do is go to the discovery page. Then, scroll through a list of search results to see how many followers each user has and how many videos they have posted, and choose your pick.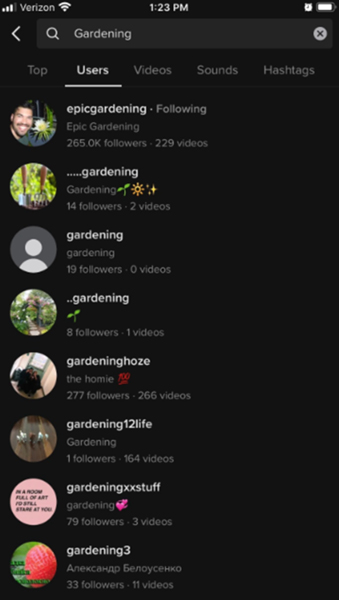 SNAPCHAT
AUGMENTED REALITY (AR)
Post their annual Snap Partner Summit on June 11th, Snapchat uncovered some great new features and updates for the app. One of the updates is, of course, associated with AR since it's launch Snapchat has been pushing the boundaries of AR integrated with a social platform. Some of the enhanced AR capabilities include dynamic scanning, improved movement tracking, interactive templates via Lens Studio, landmark manipulation, and object scanning.
Early this year it has also been confirmed that Snapchat acquired AI Factory, the computer vision startup, that is set to supercharge Snapchat's animated selfie lenses. It looks like it's going to be an exciting year for Snapchat in terms of AR, and making the platform more interactive for both users and marketers.
VOICE SEARCH
Apart from AR (which is still very impressive), users will soon be able to ask Snapchat for what they want the platform to do. For example, "Hey Snapchat, can you turn on the dog filter" The voice control will be activated by touching and holding on the camera screen. This new update has many new marketing possibilities for brands advertising on social. As time goes by, Snapchat will further develop this feature and might even start competing with voice assistants like Siri, Google and Alexa.
LENS SCAN
Another camera feature update, this time the Scan, will allow users to tap and hold to use a different type of lens that helps recognize what's in the photo. To start, Snapchat is testing the update with the PlantSnap lense, which can identify over 400 different plants.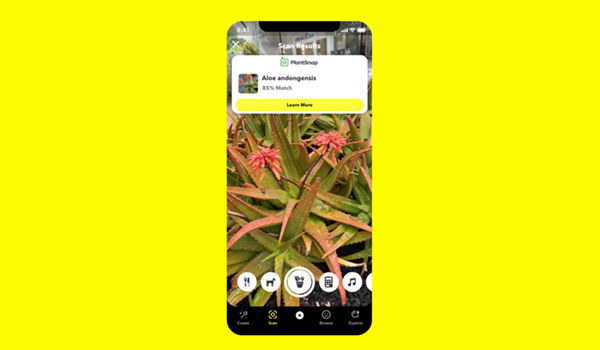 PLACES
Food ordering brands like Postmates, DoorDash, Uber Eats and GrubHub will be one of the first to be added to Snapchat Places. This new update aims to help users find popular and useful hangout spots when you are travelling. While Snapchat already had a pretty decent map feature that shows you where your friends are, this new addition will now also include businesses and their details like opening hours, address and reviews from Tripadvisor and FourSquare. To say it looks like an exciting year for social advertising capabilities for brands, would be an understatement.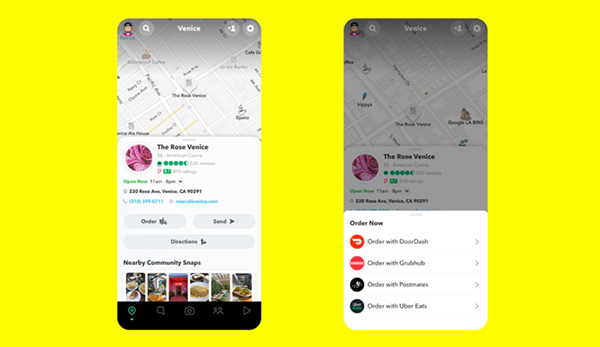 ________
Aleksandra Michniewicz specializes in copywriting and content creation for companies in a variety of industries like tech, lifestyle, fashion and finance.