MWC Barcelona is the largest mobile event in the world, bringing together the latest innovations and leading-edge technology from more than 2,400 companies, with a highly-rated conference programme assembling today's visionaries to explore the hottest topics influencing the industry. MWC19 Barcelona will once again take place at Fira Gran Via from February 25th to February 28th, 2019.
Mobile World Congress Barcelona features extensive learning opportunities from dozens of partner-led programmes, GSMA seminars, summits and more. Everything you need to know about the industry, today and beyond, can be found here. With over 107,000 key decision-makers expected to attend.
GSMA Innovation City
GSMA Innovation City is one of the most interesting stages at Mobile World Congress. It presents an immersive showcase of the latest innovations in mobile with a particular focus on Intelligent Connectivity, solutions which benefit from a combination of the 5G era family of mobile networks, smart platforms with artificial intelligence and data from multiple IoT devices.
Products underpinned by AI and machine learning technology made a big splash in 2018 – from humanoid robots and VPA's to intelligent cameras and autonomous vehicles. This year, several companies are bringing AI innovation to the show floor. Discover how these technologies will impact almost every aspect of our lives including entertainment, transportation, public services, industry, environmental sustainability and, of course, web and cloud connectivity.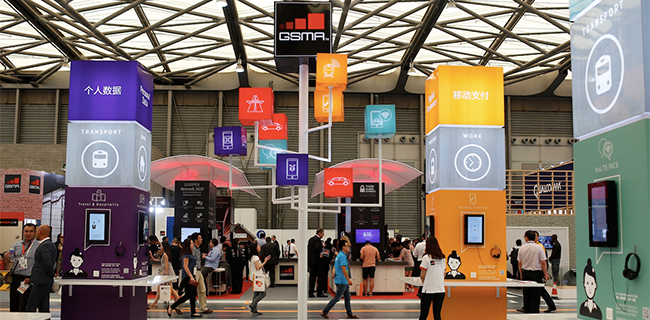 Top 5 conferences at Mobile World Congress
Within the bulky agenda of conferences and seminars offered during Mobile World Congress, we have selected our Top 5 on topics such as eCommerce, data management, digital economy, customer experience and content creation.
Amazon Entertainment and Home Series
Monday, 25 Feb – 09:00 – 18:00
Amazon executives from across the globe discuss how Amazon is innovating on behalf of customers and working with partners to deliver content and experiences that users everywhere will love. Presenters include executives and thought leaders from Prime Video, Amazon Music, Amazon Devices, Alexa, Amazon Advertising, Amazon Fuse and more.
Maintaining Consumer Trust in a Digital Economy
Monday, 25 Feb – 11:00 – 12:10
81% of consumers have some concern about the safety of their personal information, and only 10% feel they have complete control over it. As more sensitive information is exchanged online, privacy and security is a growing concern to most consumers. Currently, organizations and policy leaders attempt to create the feeling that consumers and their information are safe. New threats appear every day, how are companies facing the challenge of building and maintaining people trust in a digital world?
The Business of Creating Amazing Consumer Experiences
Monday, 25 Feb – 16:00 – 16:45
The modern consumer wants to engage with the brands they are loyal to on multiple platforms, and vice versa. Traditional marketing strategies, like newspaper ads and billboards, are being thrown out for immersive experiences that create memorable and emotional connections with a brand. Powerful experiences, ranging from sales pitches to art installations, can win hearts and bring strategic value. This session will bring together companies who have created amazing immersive experiences to discuss how these engagements have benefited their business.
>Retail & Digital Commerce Tour
Tuesday, 26 Feb – 15:30 – 18:30
The collective rise of e-commerce, retail technology, mobile and the IoT has changed where and how retailers engage with shoppers and the pace of disruption is quickening. No longer contained by walls and websites, connected commerce is happening everywhere. This tour aims to show attendees the latest trends in mobile payments, in-store digital analytics and enhanced customer experiences.
The Cost of Mobile Content: Creation and Distribution
Thursday, 28 Feb – 12:30 – 13:30
As consumers spend more time on their mobile devices, the demand for immediate content is greater than ever, and significant investments are being made in optimizing the consumer's experience. Media, Telco, OTT Platforms and Set-Top-Boxes, are in the arms race for content. Networks are being optimized to improve download speeds and decrease buffering. And the level of computing power required is influencing hardware and network advancements. How much does it cost to radically change the consumer experience and is it worth it?