In today's digital-driven world, video sharing apps like Snapchat and TikTok need to be continually reinventing themselves. Vine, launched in 2012, was one of the first short-form video sharing apps. However, despite its initial growth and success, the looping video app was discontinued by Twitter in 2016 (only four years after its launch).
Since then, Snapchat and TikTok have been rivalling to fill Vine's void. Both of these apps are very similar to each other. They both allow users to express their creativity through short-form video content. Both apps are also competing for the same target audience. Millennials' and Gen Z's make up for about 40% of Snapchat's audience and just over 42% for TikTok.
As well as similarities, however, there are differences. Compared to TikTok, Snapchat's content expires either immediately or after 24 hours. TikTok's saves the content in the user's profiles. Snapchat is more of a messenger app, as it enables users to send videos and image-based messages to their friends.
Since the launch of TikTok in 2017, the platform has experienced enormous success. TikTok's monthly active users have now surpassed Snapchats. TikTok has reached 800 million, whereas Snapchat has 360 million.
It looks like Snapchat might be losing a little bit of its initial popularity. The need for the platform to reinvent itself has arrived. What's interesting?, TikTok and Snapchat have decided to work together and collaborate on new AR lenses.
HOW DID THIS COLLABORATION HAPPEN?
Snapchat has recently noticed that a lot of their AR filters are available on other social media platforms, like Instagram, Facebook and TikTok. Snapchat' user's after creating their short-form video content, would then download it onto their phones. Once saved, users would share their Snapchat AR lenses to multiple platforms.
With Snapchat's declining monthly active users, the social brand noticed a possible business opportunity. Not a lot of marketers and brands were expecting a collaboration between Snapchat and TikTok. However, maybe that is precisely why both of these platforms decided to collaborate on the lenses. In the long run, it does make sense. Snapchat is a much more AR advanced platform then TikTok, especially in the user-generated Lense marketplace.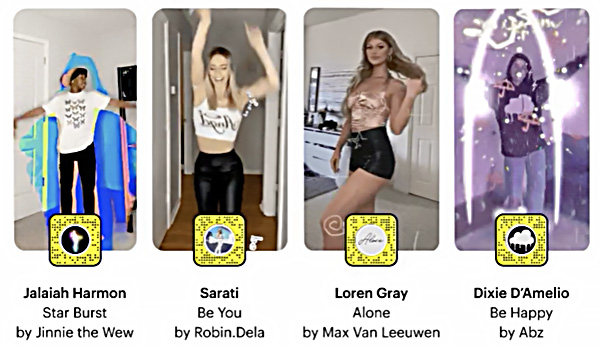 TIKTOK INSPIRED AR DANCE LENSES FOR SNAPCHAT
According to Social Media Today, the main objective behind this collaboration is to "help Snapchat to entice more users from the short-form video platform by showcasing its tools within the TikTok community".
The new lenses are featured on the Lens Studio homepage and are based on various TikTok dance trends. The lenses were created alongside the content creators, some of these include famous TikTokkers like Dixie D'Amelio, Jalaiah Harmon and Loren Gray. These creators, amongst many others listed as the official Snapchat Lens Creators.
Snapchat's innovative AR tech can track 18 joints across the body and works by tracking people's bodies as they move and change in response. For example, one of the most popular lenses with Dixie D'Amelio places rain around the user along with cartoon lightning bolts and fireworks. The lenses react to the way the body is moving and hence, can be unique for each user. The body lenses are now available worldwide for anybody using Lens Studio.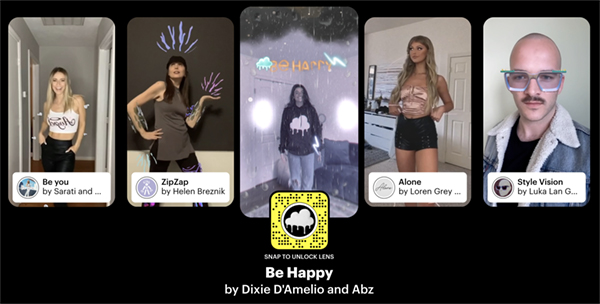 HOW IS SNAPCHAT REINVENTING THEMSELVES
As mentioned earlier, the idea behind these lenses is to incentivize users to come to Snapchat for its creative tools, rather than social networking. Snapchat is trying to become more known for being a content creation platform rather than a messaging app.
According to The Verge, Snapchat wants people to dance with the lenses and use them in challenges. The platform intends to become a prominent face in the influencer and content creation space. Given that for this lens rollout, all of Snapchat's collaborators are notable TikTok influencers, dancers and content creators.
DRAWBACKS OF THE NEW AR LENSES
According to Digital Information World, the main limitation behind Snapchat's new lenses is that only two of these four lenses have been music embedded. Music plays a huge part in TikTok's success; it's what inspires the content. Some artists have even become very popular due to the exposure their songs have received through TikTok.
Hence, the lack of music embedment into some of the new Snapchat lenses is a significant drawback, and may even affect the success of the campaign. Additionally, this means that users cannot play the related track and perform viral dance challenges directly on Snapchat. Instead, they will have to play the related music from a different app or device while recording the video.
Snapchat has stated that by the fall, they plan to make the lenses more functional, by adding the music to the lenses. However, this new feature update will be limited to English-language users only.
OPPORTUNITIES FOR BRANDS – A NEW AUGMENTED REALITY
Just like many other social media platforms, Snapchat is also developing its social commerce strategy. Over, 170 million users engage with Snapchat's AR features daily, hence there is potential for Snapchat to become a shopping destination.
The potential of the TikTok lens collaboration opens up a lot of doors for Snapchat. One is that users will stop viewing Snapchat as just a video and photo sharing messenger app. But instead, a content creation hub, where influencers can create content and users can buy products.
In recent times, Snapchat has collaborated with Wannaby, an AR commerce tech company. According to Vogue Business, Snapchat wants to be able to provide users with the AR try-on feature and allow users to buy the product from the retailers. Snapchat calls this feature shoppable AR.
Additionally, Snapchat also plans to launch social commerce via their AR Scan feature, which enables users to scan a specific item (such as a barcode or a brand logo) using their camera to trigger a particular action. For example, to buy the product on the retailer's site, or to try on a specific beauty product.
Louis Vuitton has already started using its logo to trigger a "virtual installation" using Snapchat's AR capabilities. The Louis Vuitton lens includes an image of their iconic suitcases and some of their most popular beauty products.
There is no doubt that Snapchat's AR technology has the potential to offer a truly authentic experience for both influencers and brands. The collaboration with TikTok and Wannaby seems like a move in the right direction for the platform. Snapchat is attempting to reposition itself as more of a place for users to create and buy. It is going to be interesting to watch Snapchat conquer this space, stay tuned.
_________
Aleksandra Michniewicz specializes in copywriting and content creation for companies in a variety of industries like tech, lifestyle, fashion and finance.