Few industries can command as loyal a following of the latest trends as fashion, with the term 'must-have', almost made for the world of clothes, shoes and accessories. However, it is also one of the most fiercely competitive industries around and hooking in and then retaining brand loyalty is the key to unlocking repeat engagements and sales.
This is why a primary aspect of any fashion brand's marketing approach has to be customer acquisition. Having a solid customer acquisition strategy will help turn the indifferent browsers into regular customers.
What is customer acquisition?
You may think that it merely means 'acquiring customers' and, on a fundamental level, that is true. However, the type of person an acquisition marketer will target is not someone who needs to be made aware of your brand's existence – they're a little further down the line than that.
What customer acquisition does convert is that initial curiosity in your brand into repeat sales. To maximize your marketing ROI, therefore, your marketing team must first be aware of where to direct their efforts when it comes to acquisition.
In many ways, therefore, customer acquisition is as much responsibility for your customer service team as your marketing wing. However, it is important that both work closely to maximize customer acquisition.

What should the main goals of a customer acquisition strategy be?
Customer acquisition needs to go way beyond transforming one query into one sale. One of the main goals of customer acquisition is to establish brand loyalty and repeat business. The benefits of this are the apparent revenue it will generate for your company. Still, it can also act as a marketing strategy within itself with your established customers helping to drive traffic through positive word-of-mouth testimonies.
As well as the immediate benefit for sales, having a large bank of customers in your database and a proven record of repeat custom can make you attractive to investors and suppliers whose products you want to sell. A good customer acquisition strategy should provide a constant stream of customers rather than peaks and troughs to ensure the long-term health of your operation.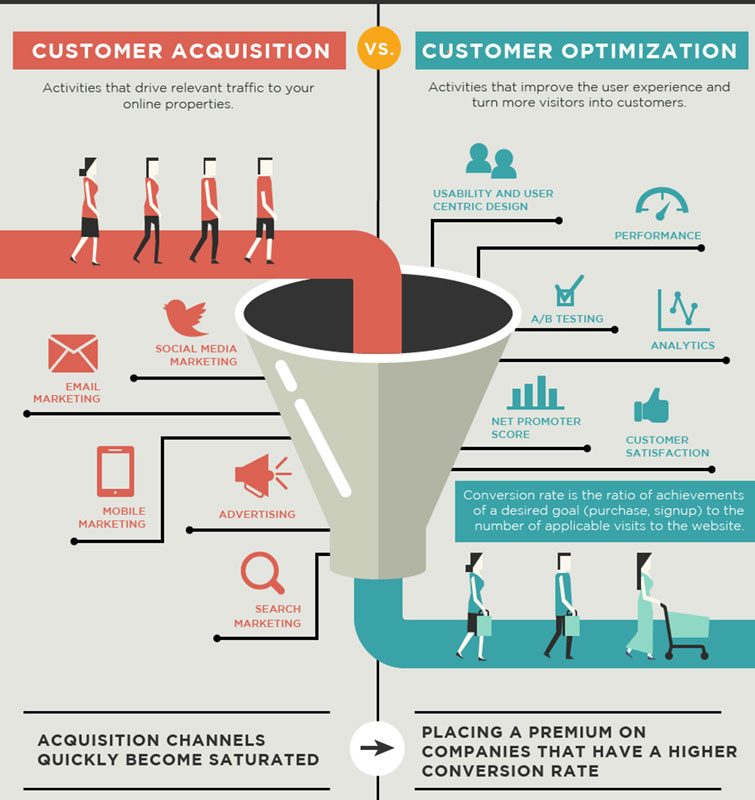 Effective customer acquisition strategies for fashion brands
One thing that the fashion industry seems to have nailed more than many other sectors is brand awareness. Fashion is quite adept at getting their logos and labels in front of the public's eyes; however, being seen is just the first step towards those all-important sales.
Converting awareness into action can be done in several ways by exploiting the many online tools available to you.
Content marketing
Content marketing and customer acquisition are an excellent matching fit for fashion brands seeking high conversion rates. The reason why content marketing works well as an acquisition marketing tool is that it can encourage repeat traffic to your website beyond the initial curiosity.
Content can do many things. It can establish your brand voice and identity and engage customers beyond a brief browse. It can also work hand-in-hand with online fashion stores by providing relevant content. For example, listicle articles like 'the ten best summer accessories' or 'the five must-have sweaters for the Fall' encourage customer engagement and can link through to online stores.
Adwords and paid searches
Driving traffic to your website is essential for customer acquisition. Using Adwords or other paid search facilities can help you get a head start on the competition, and this approach can prove very cost-effective is used wisely.
You'll need to moderate in the keywords you want to get hits from so that your brand comes out on top of Google searches and this means spotting industry trends and being in tune with buying patterns and seasons.
Social media
Organic
Your social media channels are another great to set the tone and voice of your brand. Social media accounts allow fashion brands to interact with customers, promote new products and offers or share humorous or engaging content.
Social media can also act as an arm of customer service and a place where customers raise complaints or queries, so it is essential to staff those platforms with the right kind of people. When marketing through social media, you first need to look at the demographics of your customer base and decide which platform is going to give you the most penetration and engagement.
Paid social
While social media relies on building up a mass of followers, paid social can bypass all that with sponsored posts. For fashion brands seeking customer acquisition, these posts need to be appealing, fresh and, importantly, unobtrusive. Paid social, pitched right, can provide high ROIs, but if they are too aggressive or ill-fitting, then their forced presence in someone's timeline or newsfeed isn't going to go down well.
Blogging
Fashion is an ideal industry for blogging. Having an informed regular blogger can pay dividends when it comes to customer acquisition in fashion. A well-respected fashion blogger can write articles about what trends they are predicting for what season or inform readers about what they are wearing. Blogging shows a great knowledge of the industry and, especially for fashion brands, can help set agendas and trends for your customer base to follow.
Guest bloggers are also a useful tool to have at your disposal in the fashion world, whether it is designer, buyers and fashion-conscious celebrities and influencers who want to share their tips and secrets.
Fashion is a very visual medium too, and that's why video blogging can also prove useful in customer acquisition. It allows you to show your customers how your products can be worn and what goes with what. You can include features like 'get the runway look for a fraction of the price' or 'how to transform certain outfits
Email marketing
Because customer acquisition relies on utilizing your existing customer base, email is an extremely effective way of generating repeat business and brand loyalty. In a world of social media, email may seem a bit old fashioned, but it can often be a more forensic and personal way for fashion brands to engage with customers.
Email can have high conversion rates because it allows you to tailor communication to people who are more likely to engage. Informing customers of upcoming sales and offers is a standard email marketing tactic. Still, you can also grant them exclusive access to certain online offers or give them early VIP access to sales and events.
>Email marketing also allows you to get out ahead of certain holidays, seasons and events. Try something like 'Are you dressed for summer?' or Have you got the right shoes for Christmas Party season?