The brand new Digital Marketing Centre is an exciting and brave product move by Microsoft. The main aim behind this platform is to aid small and medium-sized businesses (SMB's) manage their digital campaigns across multiple networks, all from one platform.
Microsoft has never really done anything like this before. Except for Dynamics 365, however, this software is more focused towards improving business communications and thus creating a seamless customer journey. But unlike Dynamics 365, the Digital Marketing Centre is entirely free to use.
When you think of an all-in-one marketing centre for SMB's HubSpot is one of the most popular platforms at the moment. Microsoft's Digital Marketing Centre does not (yet) have all the CRM features of HubSpot.
However, since the Covid-19 pandemic, most SMB's have been spread relatively thin. Adjusting to the new normal has taken a toll on a lot of new and small businesses around the world. Thus the simplicity and lack of a price tag for Microsoft's Digital Marketing Centre may be a real draw for overwhelmed, resource-stretched brands.
Let's look closer at what this new software has got to offer.
KEY FEATURES OF THE MICROSOFT DIGITAL MARKETING CENTRE
One of the key benefits of this software is the AI-powered campaign management technology. This AI helps SMB's manage campaigns across multiple channels, in four fundamental ways:
NO KEYWORD OR BID MANAGEMENT NEEDED
Microsoft's Digital Marketing Centre uses AI to set your advertising goals, targeting and budget. But most importantly, it helps advertisers with their campaigns, including creation, monetization and tracking performance.
CREATE MULTI-CHANNEL ADS
With Digital Marketing Centre marketers can create multi-channel ads with text, images and video. Advertisers can easily create ads by choosing to build their own, or use the automated ad copy or modify auto-suggestions. Which means you can be as hands-on with your ads as you like.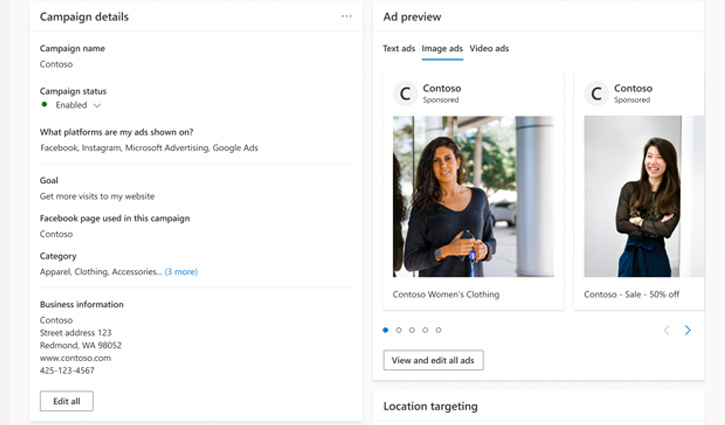 BUDGET OPTIMIZATION
The AI tools automatically distribute your budget across platforms to help achieve the best return on investment.
IMAGE AD SUGGESTION
With image ad suggestions, you can effortlessly create appealing image ads by just picking from suggested ads.
SOCIAL MEDIA MANAGAMENT
As well as AI-powered technology, the Digital Marketing Centre also offers social media management solutions across multiple channels. The three key features include: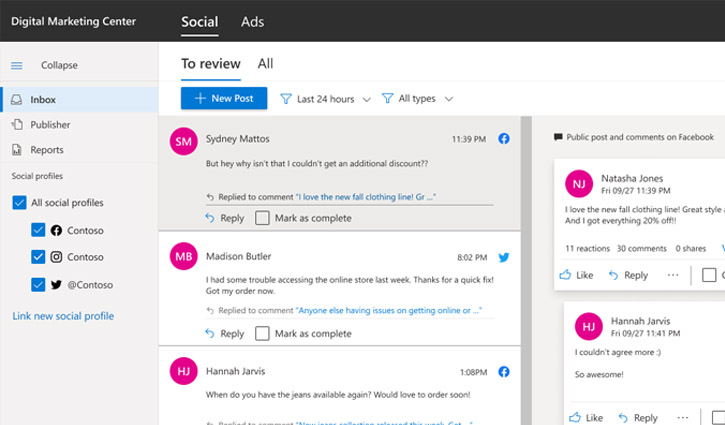 A CENTRAL DASHBOARD
Marketers can seamlessly create, schedule ad publishes posts on Facebook, Instagram and Twitter using one central social dashboard. You can also manage up to 10 different profiles.
SOCIAL MANAGEMENT INBOX
From the inbox located in the dashboard, businesses can manage all their customer communication from one place. Quickly like, reply and direct message on Facebook, Instagram and Twitter.
REVIEW KEY METRICS
In the reports section of the dashboard, you can track campaign performance like impressions, engagements and audience growth all in one place.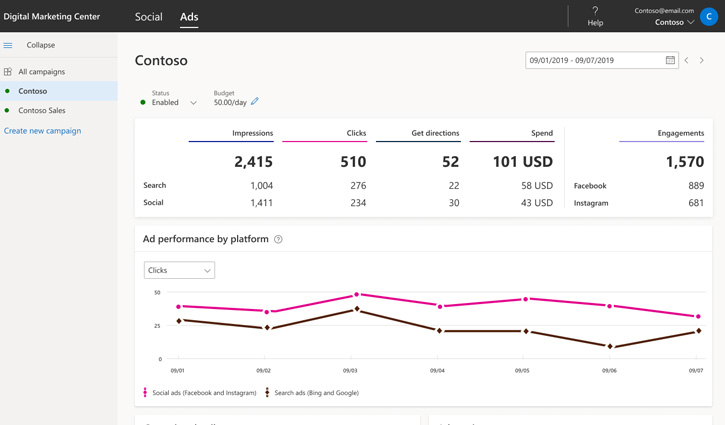 IS IT WORTH IT?
Like mentioned earlier, since there are no associated costs to start using the software, it can become highly popular with many SMB's. Right now, it is entirely free to use; businesses only pay for search and social ads and manage their social presence for free.
If the software becomes popular, then Microsoft might start a subscription service, similar to the subscription package for Dynamics 365. But in the meantime, the Digital Marketing Centre looks very promising. It offers a wide range of critical services that can help many struggling SMB's catapults their digital marketing strategy forward.
—-
Aleksandra Michniewicz specializes in copywriting and content creation for companies in a variety of industries like tech, lifestyle, fashion and finance.