As the holiday season begins, Christmas shopping in 2020 will inevitably look different due to various COVID-19 restrictions, preventing many from going to their usual highstreet stores. Some traditional brick-and-mortar businesses are already looking for new ways to adapt. In using hybrid-shopping models that allow them to offer options such as home delivery,  retailers are making an effort to accommodate consumers' increasing need for convenience.
Whilst eCommerce growth may have seemed inescapable, the COVID-19 pandemic and a barrage of national restrictions have been a major catalyst for the speed in which online presence has now become essential for retailers. A report by Springboard estimates that there will be a -62% drop in footfall to high streets during the Christmas retail period compared to last year.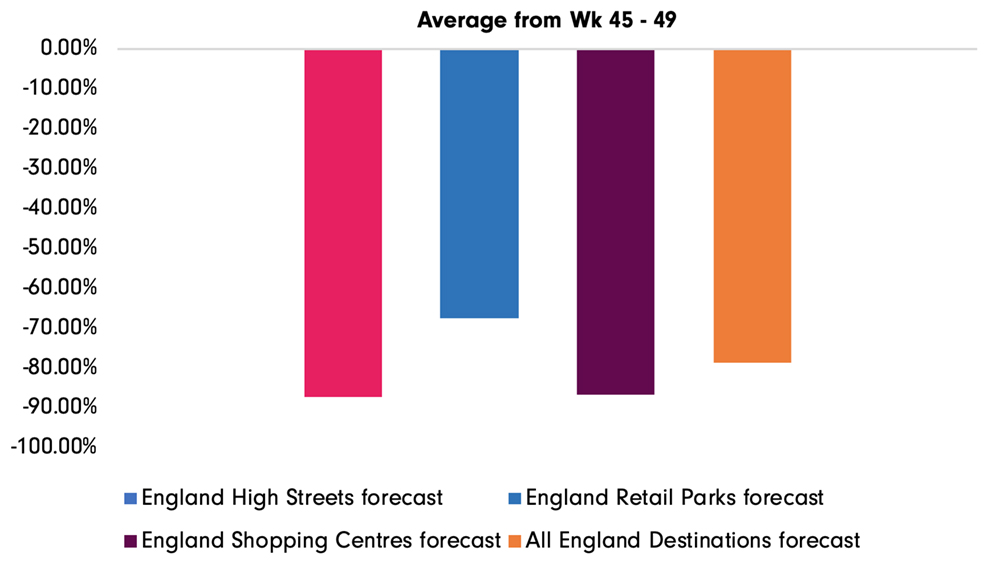 This data, combined with many retail closures due to the COVID-19 pandemic, means that the future of the highstreet has become an awkward topic. But does this mean that we have to forget the old model entirely to be competitive in the digital age?
With some retailers partnering with home delivery services, combining the convenience of online shopping and the in-person experience of traditional retail, it seems that there may be a way forward.
With highstreet stores tentatively open for holiday trade we have chosen to find the best home delivery services for those savvy shoppers who still crave a highstreet experience.
Founded in 2014, Dropit is a concept that gives shoppers a hands-free shopping experience. Available via their mobile app, Dropit delivers the items that shoppers buy in-store straight to their homes or hotels after purchase. Users of the app can purchase a day pass for £10 that allows them to use the Dropit service in participating highstreets stores.
The company is the epitome of consumer convenience; the app even allows you to track your items' progress, so you don't miss being home to receive them. And of course, there's no need to be weighed down by multiple bags and boxes which hinder your shopping experience.
Pros
Hotel/Home Delivery
Hands-Free Shopping Experience
Unlimited Bags (shop as many stores as you like in one trip)
Cons
The service can only be used in participating stores (though the numbers are growing!)
Dropit offers in-person shopping with the convenience of home delivery, offering a unique hybrid-shopping experience.
CARRYR
Carryr was founded to help retailers to reach a wider customer base, as well as providing a convenient home delivery service to people who may not have time to visit their highstreet shops. Much like food delivery company Deliveroo, Carryr relies on bicycle couriers to collect customers orders and deliver them to their doorstep. Delivery slots can be chosen as soon as an hour after purchase, making the Carryr service much faster than many home delivery options offered by online retailers.
Pros
Home delivery in as little as an hour after purchase
Flexible – choose a timeslot convenient for you
Cons
Only available in participating locations
Carryr streamlines the shopping experience allowing retailers to use their stores as local hubs for distribution to local consumers. Whilst customers don't need to visit the store themselves, rapid delivery will ensure that customers return to your business whether through the Carryr service or in-person.
TOSHI
Branding itself as "Luxury on Demand" Toshi offers home delivery of high-end fashion brands. Toshi aims to bring the fitting-room to you. Their luxury service is complete with an assistant who delivers your items from the store, waits while you try on, makes sure you have a variety of sizes, and who will even adjust your items to get the perfect fit.
Using smart technology Toshi tracks items, assistants and customers simultaneously to make sure that consumers can only order items that are in stock at their closest store. Unwanted items are returned to the store within 90 minutes, meaning that retailers don't lose out if items are not sold via the delivery service.
Pros
A 30-minute home delivery slot
Only pay for the items you keep (the retailer covers delivery cost)
Receive a full fitting-room experience in your own home
Cons
Currently partnered with luxury brands only (though Toshi has plans to partner with more accessible brands shortly)
For the UK, currently based in London only
An elegant way to shop at home, Toshi offers an alternative to online fashion retailers by removing long delivery times and awkward returns processes. A truly personal way to shop the highstreet at home.
HARPER CONCIERGE
Harper Concierge is focused on helping high-end brands to elevate the service offered to their customers. The concierge service combines the practicality of ordering online with the comfort of trying on at home. Customers can even request the free guidance of an expert or "style concierge"  who will advise them during the trying-on process.
Pros
Free advice from a "style concierge"
Only pay for the items you keep (delivery cost is covered by the retailer)
Cons
Exclusively partnered with luxury brands
Harper Concierge offers a platform for luxury brands to build customer loyalty whilst adapting to new retail trends. The attention given to luxury service makes their clients stand out from other online retailers.
PINGA
Pinga's service offers an alternative way to experience the convenience of eCommerce whilst shopping locally and sustainably. With a focus on reducing emissions, Pinga delivers local produce to local people mostly using bicycles. Their ethical service ensures that wages are fair, and delivery packaging is kept to a minimum.
Pros
90 minute home delivery
Sustainable and eco-friendly
A good way to support local and independent shops
Cons
Size of items can be limited due to the delivery method
Limited to shops within a certain distance from your residence
This is an excellent hybrid-shopping model for consumers who wish to stay sustainable whilst not missing out on the convenience of home delivery.
WILL THESE SERVICES DRIVE TRAFFIC AWAY FROM eCOMMERCE?
Definitely not! Many eCommerce businesses still rely heavily on the highstreet to drive sales, with some businesses already delivering their own hybrid-shopping experience to their customers. By driving traffic to the highstreet, brands can increase their authenticity as well as improve brand awareness. If implemented correctly, eCommerce and traditional retail stores can work together, along with social and digital marketing, to increase profitability.
Given the recent acceleration of eCommerce, it would be unsurprising if we see a large shift in retailers moving towards a hybrid-shopping model. With shoppers still enthusiastic about keeping their traditional high streets alive, home delivery services are the obvious next step to modernising brick-and-mortar stores. These services have the potential to create the perfect bridge connecting the personal experience of the high street with the ease and convenience of online shopping.
—————————————————————————————————
Written and researched by Paige Elford, Digital Marketing Graduate