The current pandemic will have a massive impact on the world economy and millennials may end up being the first generation –in over a century– to have suffered a recession when entering the job market and starting a family. Tourism and travel industries will be amongst the hardest hit, along with the airline industry – according to National Geographic, in Europe, the revenue will fall by 46% (an estimated 69.5 billion euros.)
To be up-to-date and able to make informed decisions, MonkeyData has launched https://www.ecomcovid19.com, the most extensive study on the impact of COVID-19 on eCommerce in the CEE market. We've recently asked a few questions to Jan Lastuvka, founder of MonkeyData. Jan starts:
"Data is the basis of good decision making, and today's turbulent time demands it more than ever. Therefore, we have decided to help through what we do best and prepared this study. Every day we bring the current data about the events in CEE eCommerce so that e-shops, carriers and other key players in eCommerce have the right information for their decision making."
The MonkeyData team collects and analyses data from more than 1,200 e-shops (small and medium-sized companies). Most are a scale-up business which has been on the market for more than two years. The data collected is compared to the desired periods on a year-on-year basis. This study is accessible to anyone online and, despite focusing mainly on the CEE market, it seems that other European countries like Spain, Italy and the UK are experiencing similar trends.
"E-commerce as a whole appears to be very stable, showing long-term sales growth despite events regarding COVID-19. There are significant shifts in purchases across industries in Q1 2020. A year-over-year turnover comparison shows the same trend in recent years. We can observe a jump only in March 2020, which directly correlates with issued government measures", explains Jan.
Growing vs declining product categories
"Some of the biggest sales growth by industry in 2020 vs 2019 was in these segments: Health (+203.56 %), Building Materials (+109.47 %), Children's Goods (+97.71 %) and Chemist's (+124.19 %)", Jan responds.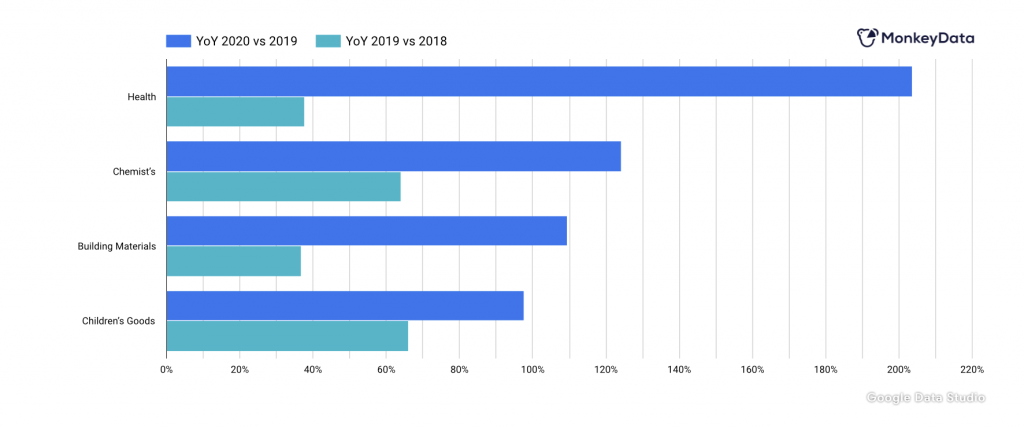 According to Business Standard, in March, the pharma market grew by 9%. Despite the global lockdown, the primary catalyst was the panic that led to people buying cough and cold (+535%), respiratory, cardiac and anti-infectives medicines. On the other hand, the fastest declining product sales since COVID-19 are luggage and suitcases (-77%), cameras (-64%), bridal clothing (-63%) and women's swimwear (-59%), according to a diagram by Visual Capitalist.
"A significant year-over-year decline in sales growth by industry in the period 2020 vs 2019 compared to 2019 vs 2018 was recorded in these segments: Garden, Clothing and Fashion and Office, Workshop, Warehouse. In the latter segment (Office, Workshop, Warehouse), we are even talking about a slump in sales in 2020 vs 2019. We see similar trends all over the world," Jan adds.

The UK eCommerce industry
The UK eCommerce purchases could increase to 40% of all retail sales. One of the reasons for this massive rise is because people prefer to shop online from the safety of their own home. Recent research conducted by EMarketer shows an increase of 14% of the UK public has turned to online shopping.
Fitness Superstore, one of the largest online fitness retailers in the UK, has imposed a £200 minimum spend to slow down the rate of orders coming into the Northampton distribution centre. The company reports that the demand they usually experience during the Holiday Season is nothing compared to what they are experiencing now. According to The Guardian, there's a 64% rise in overall sales. Product categories such as compost and speeds reaching up to 250% increase.
Demand vs Supply
With the increased demand, supply must also keep-up. However, delivery services in the UK are overwhelmed. According to Statista, "more than half of UK consumers' online orders have been affected by busy overwhelmed services during coronavirus (Covid19) pandemic." Some of the most pronounced impacts noted by the study include:
48% said their ability to order takeout food online reduced dramatically
58.8% have experienced a reduced ability to shop for groceries online
35.5% have experienced difficulty with purchasing electronic goods online
34.9% experienced a reduced ability to shop for clothing online
Even Amazon has recently announced that it can no longer keep up with consumers' demand. As a result, some non-essential items may experience delivery delays, or in some cases, not being available to be purchased at the moment. The UK eCommerce market has never experienced such high demand before. To respond to users' request, companies will need more employees. However, according to BBC News, up to a fifth of UK workers could be out sick at the same time.
The consumer preferences are changing
In recent months we have seen a massive shift in consumer preferences and the way people are purchasing. UK unemployment rates are forecasted to reach 4.7% this year, and globally COVID-19 may wipe out as much as 195 million jobs. As a result, consumers have been bulk buying. According to a recent study by Kerry Group, they have identified the following changes in consumer preferences to date:
Consumers are choosing store brands like LIDL and Aldi for grocery shopping, versus the more expensive national brands
Digital orders for grocery shopping are rising even amongst the older Baby Boomer generation
In the UK, these are the current consumer preferences:
The NHS' handwashing guidelines are the driving force for increased cleanliness and self-care, in turn increasing the sale of hand-cream and hand-sanitizer
Increase in online consultation services especially in the personal beauty sector
Chatbots and augmented virtual reality technology could see a drive-in usage as more consumers seek beauty advice from their homes
Companies now face the challenge of adapting to these new changes. Some have already started to turn towards online as their primary channel for sales. For example, some grocery stores in America are introducing contactless delivery, new promotion strategies to encourage online, app-based shopping and pickup-only grocery stores.
"eCommerce will continue to grow, but the customer preferences are changing. Many companies will move to the "online", and new e-shops will be created. A lot of companies from the standard" offline" industry – restaurants, drinks, bars will invent new business models and start using online as their channel sales," Jan concludes.
__________________________
Aleksandra Michniewicz specializes in copywriting and content creation for companies in a variety of industries like tech, lifestyle, fashion and finance.