Since the pandemic, e-commerce has taken a significant leap towards innovation, with many brands focusing on delivering safe products. Beauty brands have turned to AR technology such as filters, or virtual-only makeup lines while fashion retailers collaborated with AI 3D technology companies to display their new collections.
E-commerce is now all about fast, safe and seamless experiences. According to the Stylus Trends Intelligence Summit, since April 2020, Google searches for "low-touch", and "non-contact" shopping have increased by 133% and 200% respectively.
Thus, we joined panellists Neha Singh, Obsess' Founder and CEO, Sreenivas Rachamadugu, Verizon Media's VP Commerce Engineering, and Neil Redding, Redding Futures' Founder and CEO, to understand the challenges and opportunities for immersive technology in 2021.
WHAT IS IMMERSIVE COMMERCE?
"Immersive commerce is the next generation of the online shopping interface" explains Neha Singh, Founder & CEO at Obsess. The e-commerce sites today are basically a grid of thumbnail images on a white background. They are all similar to each other, both mobile and desktop, just different fonts and colours.
There is not enough differentiation for brands moving into 2021, especially for beauty and fashion retailers who switched to online. Thus, the possibilities that 360º augmented reality (AR) and virtual reality (VR) technology, along with the advancements in 5G are bringing to the table are endless for e-commerce.
Obsess is a great example of a company pushing the boundaries in creating 3D, 360º virtual retail stores for consumers and virtual showrooms for buyers. Obsess specialises in delivering a mobile-first optimised shopping experience. They have created virtual stores for brands like Tommy Hilfiger, Ulta Beauty, Carmen Sol and Charlotte Tilbury.
THE BASICS OF VIRTUAL STORES
VR stores allow e-commerce websites to transform into unique, branded and highly engaging shopping experiences for customers. With lockdowns still in place during Christmas, it was a challenging period for many brands. However, to surpass this challenge fashion brand Tommy Hilfiger and beauty king, Charlotte Tilbury, created their own VR stores in collaboration with Obsess.
TOMMY HILFIGER'S CHRISTMAS WONDERLAND
Immersive, interactive elements define VR stores. These elements are included not only to entertain customers but also to allow them to purchase the products.
For Tommy Hilfiger's virtual store, Obsess designed a fully shoppable 3D/360º experience. Full of candy canes, red ribbons and snow-dusted floors, the VR store is entertainingly shoppable.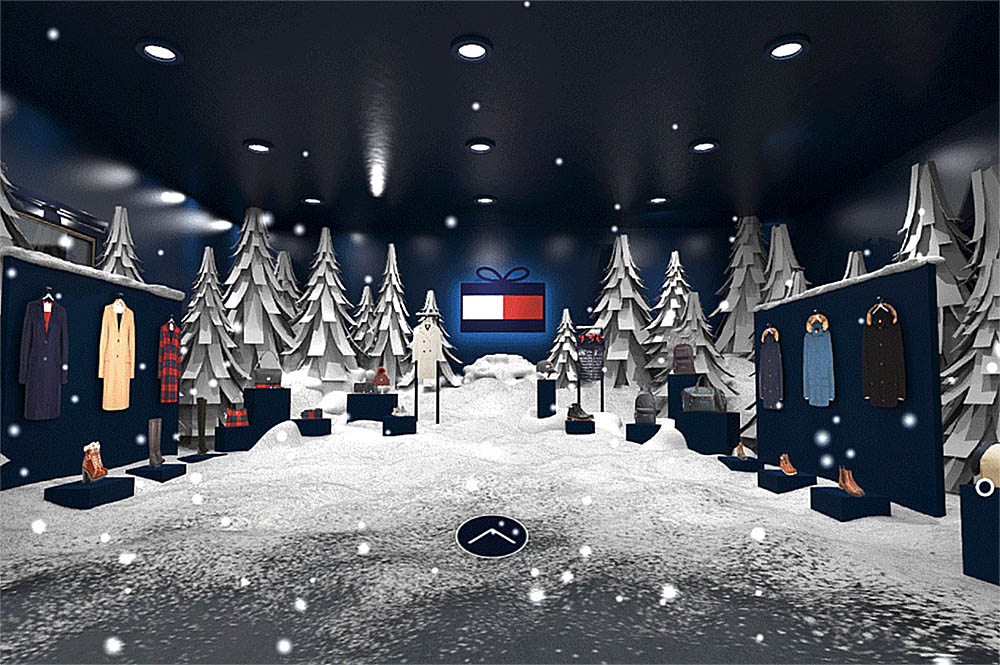 To navigate the store, customers click on the various arrows drawn in front of them –similar to the street view navigation on Google maps. As the customer moves through the store, products become interactive (indicated by a circle on the product).
If the customer hovers or clicks on the mark, it shows an information card, additional product images, or checkout. As seen in Levi's VR experience, the store can replay real-life ads to make the experience more vivid.
CHARLOTTE TILBURY'S MIRROR LAND
The world-renowned beauty brand, Charlotte Tilbury, took it one step further when creating their AR mirror land. As the brand's e-commerce website became fully integrated with the VR store. Which means prices and product availability are current and updated continuously.
"I want you to feel like you are literally stepping into my world", says Chairmen and Chief Creative Officer of Charlotte Tilbury Beauty.
Another unique twist for the beauty wonderland is the magic Charlotte avatar that guides customers through the 3D themed "beauty zones" like Hollywood or Rock' n' Roll. Besides, customers could shop customisable makeup kits, watch live events, record tutorials or invite friends to join via video.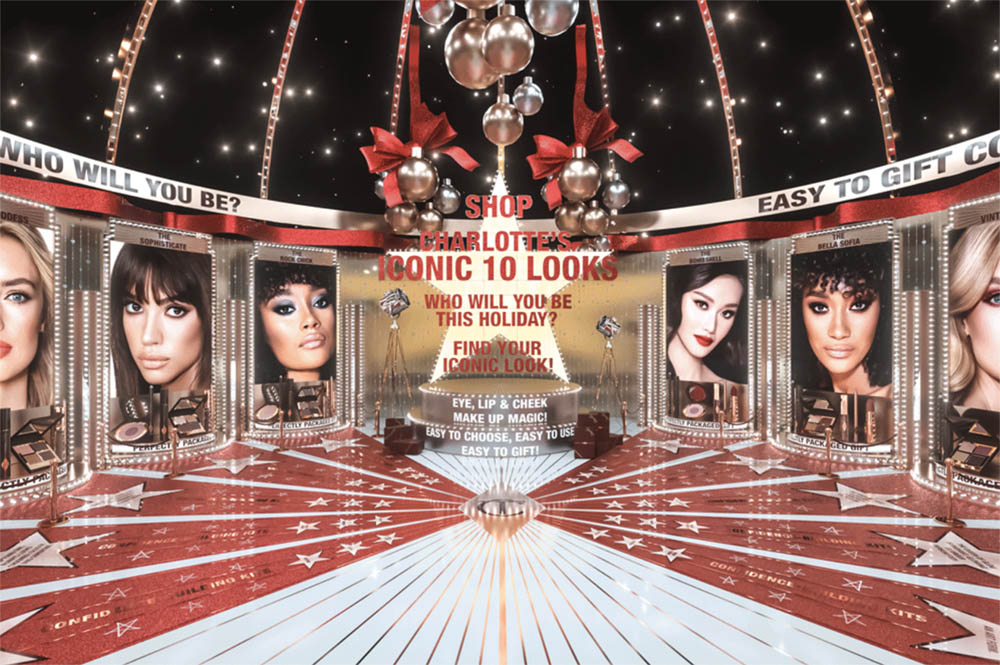 THE CHALLENGES OF IMMERSIVE COMMERCE
CO-BROWSING
"When we are talking about immersive commerce a lot of it is riffing off or an evolution that's grounded in the physical store," said Neil Redding, Founder and CEO at Redding Futures. "It's a frontier, but this is where things are heading; being immersed in a space, projecting yourself into that space or being immersed in a simulation" Neil Redding, Founder and CEO at Redding Futures.
PHOTO REALISM
3D rendering of products is hard, especially when it comes to an understanding of what is possible on a mobile device. In particular, clothing tends to be more challenging to render then furniture, for example. "Right now, we are in the early stages of a lot of the experiences, created and based on actual stores and showrooms. But I don't think that grounding is bad in this sense, giving the consumer something that they are familiar with makes it very intuitive to navigate", adds Neha Singh, Founder and CEO at Obsess.
ACTIONABLE INSIGHTS
Collecting real-time analytics and data is another challenge of immersive commerce. Customising the customer experience based on real-time information is something many immersive technology companies are working on.
Sometimes, customers get lost in virtual stores. Neha Singh explains, "if we could collect real-time data to change the interface based on that information, this data would be precious for retailers".
Most importantly, it's about breaking down real-time data into actionable insights. For example, breaking down the data segments and using it to customise the experience by category, type of customers and devices, would be ideal.
FUTURE OF IMMERSIVE COMMERCE
According to Vogue Business, Tommy Hilfiger plans to compare sales revenue from e-commerce and virtual shoppers to traditional shoppers to understand consumer behaviour and inform future efforts.
Additionally, digital AR pop-up experiences are also something to think about for 2021. Burberry recently collaborated with Snapchat to introduce their AR immersive animal-filled world, where each filter explored a new pop-up location.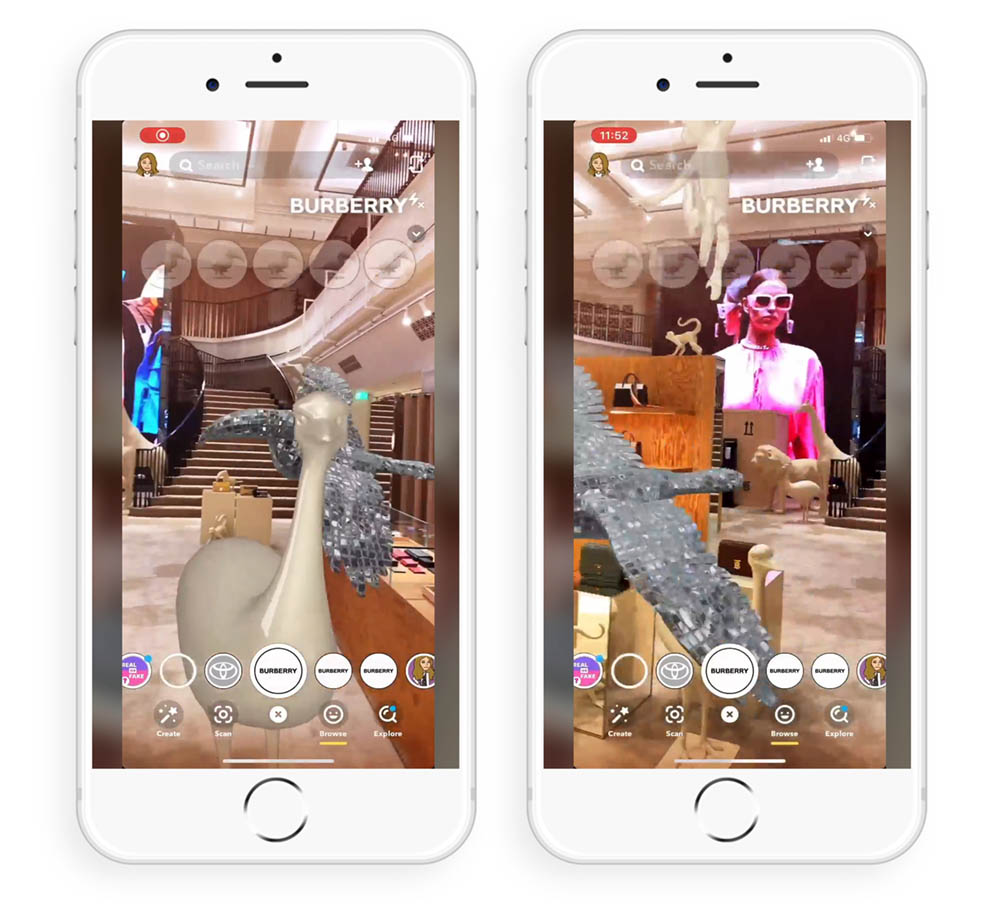 Developing touch and fragrance AR immersive experiences is also a challenge for the future. "Those areas are still in very early stages of research and development, probably around five to ten years before we see that" explains Neha Singh.
Finally, recommendation and personalisation possibilities for immersive commerce are still yet to be more developed. Networking speed and hardware are both keys to that. When it comes to personalisation, its implementation and success will depend on gathering real-time data (similar to what's happens on a regular e-commerce website). Albeit, more challenging, is doable and expected in 2021.