Retailers no longer have to pay to get found on Google Shopping. The search giant is making shopping ads cost-free across Europe, Asia and the Americas, including in the main search results.
For eight years, Google Shopping has been strictly a pay-to-play platform. But from mid-October, the vast majority of listings will be organic. Google will also show free shopping ads in the knowledge panel on the main results page.
By making the move, Google is going back to its product search roots. The platform, previously called Froogle, used to be free for advertisers before Google forced advertisers to pay in 2012.
The update was first released in the U.S. in April and is now being launched globally after promising results. Google reports an average 70% increase in clicks and a 130% increase in impressions since Shopping Ads became free.
What Do Free Shopping Ads Look Like?
The free ads in Google Shopping are only slightly different from the paid ads.
As you can see in the screenshot below, paid ads are displayed in the familiar carousel format at the top of the page. Free listings are displayed in a grid format below and look largely the same.
In this case, the only differences are the colour of the font and the lack of a "free delivery" badge on the organic listings.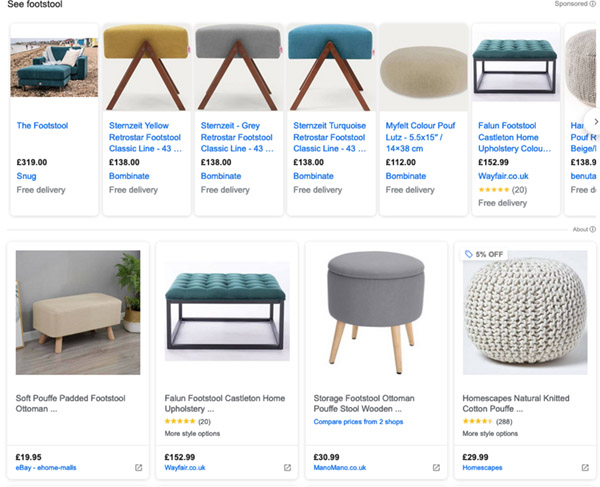 In the main search results page, free listings are included in knowledge panels for particular products. These results are more common on mobile, but they will eventually be rolled out to desktop searches.
Why is Google Making Ads Free?
It doesn't make sense, right? Why would a company that depends on ad revenue make a significant part of its advertising ecosystem free?
Google is positioning the shift as a way to help struggling businesses during the pandemic.
Bill Ready, President of Commerce at Google, said as much in April's announcement:
"The retail sector has faced many threats over the years, which have only intensified during the coronavirus pandemic. With physical stores shuttered, digital commerce has become a lifeline for retailers. And as consumers increasingly shop online, they're searching not just for essentials but also things like toys, apparel, and home goods. While this presents an opportunity for struggling businesses to reconnect with consumers, many cannot afford to do so at scale.
"In light of these challenges, we're advancing our plans to make it free for merchants to sell on Google."
In reality, the shift is probably a response to Amazon's growing eCommerce dominance. To compete, Google needs to provide users with better, more complete search results. That's something that can't be achieved by only displaying paid ads.
By making Shopping ads free, however, Google will draw new retailers to its platform and give existing retailers a reason to add even more products to their Google Shopping feeds.
In theory, the move could also drive more demand for paid ads. When the bulk of listings are organic, retailers will be encouraged to spend money to increase visibility and stand apart from competitors. It will be even easier for retailers to do so when their products are already listed on Google's platform.
The move may also be a response to the growing discontent about the way Shopping Ads is run. When Google switched to a paid model in 2012, several Comparison Shopping Services (CSSs) filed a complaint with the EU that accused Google of abusing its search monopoly and hiding their placements on result pages.
The EU fined Google €2.4 billion as a result of the complaint and forced Google to open up Shopping Ads to other CSSs. Google's market share of Shopping ad placements has been falling ever since. By making the vast majority of placements free, Google weakens the case against them and inhibits the growth of external CSSs on its platform.
Will All Shopping-Related Ads Be Free?
In a word, no.
Paid Product Listing Ads (PLAs) will still be shown above and below the organic listings in Google Shopping as can be seen from the screenshot above.
Paid ads will still appear in the Google Shopping carousel on the main results page, too, as can be seen in the following screenshot.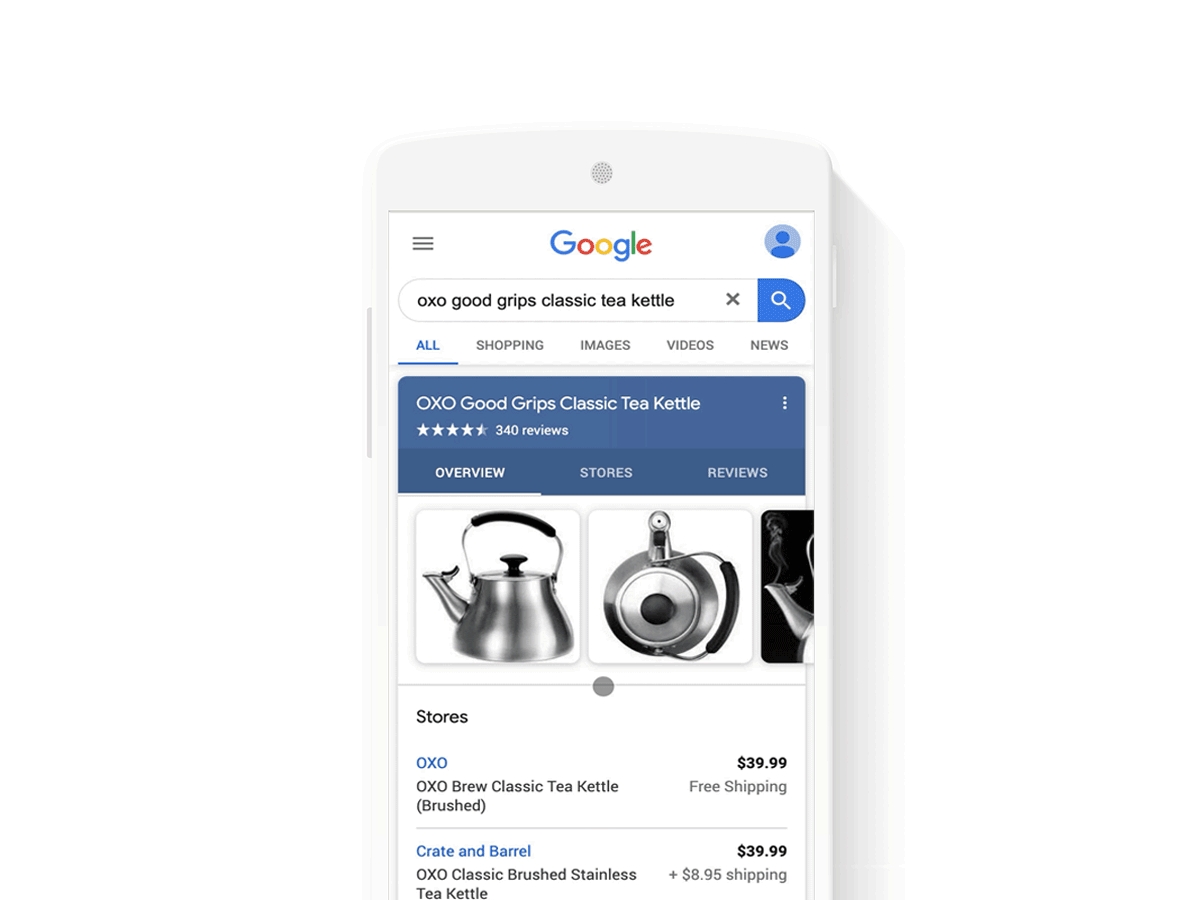 This will be the case even if there are free Product Listing Ads in the knowledge panel below.
All that's to say if you're already advertising on Google Shopping, you may not want to pull your budget just yet. Retailers who want to guarantee visibility on the main search results page will need to pay to be in that top carousel. Who knows, CPCs may even fall as a result of this move. Although, if you do continue paying for ads, you'll need to pay the 2% digital service tax.
How to Get Your Products Listed for Free
You'll need to create a Google Merchant Center account if you don't already have one. As part of this, you'll need to claim your website and configure tax and shipping settings within the account.
Next, you'll need to create a product feed, This is a list of all the products you want to advertise on Google Shopping and can be compiled in a spreadsheet. Make sure each product has the following attributes:
A unique alphanumeric ID
A title
A description
A link to the product
An image link
The price
The brand
The product's GTIN (Global Trade Item Number)
Once you've created your feed (or if you already have a Google Merchant Center account set up), you'll need to navigate to the "Surfaces across Google" section of the account. This can be found by selecting Growth > Manage programs in the left navigation menu.
The performance of free listings can be seen in the "Performance tab", which is also in the left-hand navigation menu.
——–
Ed Currington is a freelance copywriter and content marketer for B2B tech, eCommerce and marketing companies. He specialises in long-form content.