Since March 2020, the Covid-19 pandemic continues to influence consumer behaviour. Last year was an unprecedented time for e-commerce, with UK sales reaching £78.9 billion.
First hand, we've seen the influence social media has had on the consumer interest journey and brands. ASOS, one of the world's most popular fashion and beauty retailers, has gathered an impressive 11 million followers on Instagram. Sharing not only beauty and fashion trends but also collaborating with influencers and content creators.
Social commerce was born thanks to consumers turning to social media to do research products. As a result, various technology companies seized the opportunity and launched their in-app checkout features.
It all started from shoppable AR filters to shoppable static image posts on Instagram. Then, video was next and thus came along the TikTok X Shopify collaboration, and Instagram Reels. As the demand and development in social commerce grew, Livestream commerce was the next big thing. Our social commerce timeline breakdowns how quickly the technology developed throughout 2020, leading to Livestream shopping.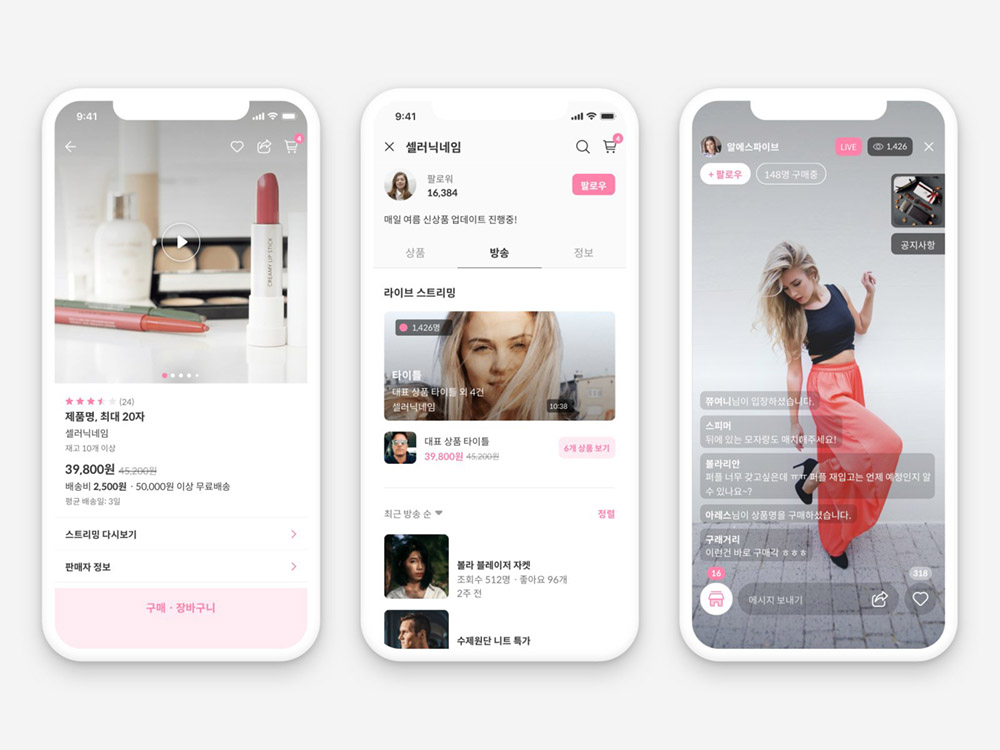 SOCIAL COMMERCE TIMELINE
JANUARY 28TH 2020
Pinterest launched its new virtual lipstick "Try-On" feature with more than 10,000 shoppable lipstick shades. Enhancing it through augmented reality (AR), so Pinners can try on different beauty looks. Discoverable across 48 million beauty Pins, as well as visual style recommendations.
MAY 19TH 2020
Facebook Shops was launched to help make online shopping seamless for customers. Shops are also integrated with Instagram (Checkout) by having a dedicated Shop button that is prominent on the app home screen.
SEPTEMBER 2020 (GLOBAL LAUNCH)
Instagram's Checkout beta version was first released in the US only, on March 19th, 2019. It was initially only available for 26 brands, like Zara, Kylie Cosmetics, Revolve and more. However, in September, Checkout was launched globally and enabled users to buy products from their favourite brands without leaving the app.
OCTOBER 17TH 2020
TikTok announces its partnership with Shopify. Up until now, the video-sharing platform was finding it challenging to monetize. Thus, their Shopify collaboration was a step in the right direction. Allowing them to help 1 million merchants create and run campaigns.
DECEMBER 10TH 2020
Reels was added into Instagram on August 5th, 2020, making it fully shoppable on December 10th 2020. How is Reels unique compared to other social commerce platforms? Instagram is the first to introduce shopping tags into video content and the ability to fully checkout in-app.
WHAT IS LIVESTREAM SHOPPING?
According to Single Grain, live shopping is "fusing established shopping models like the Home Shopping Network or QVC with live video, content marketing, influencer marketing and entertainment value". In a nutshell, live commerce is all about combining entertainment and e-commerce. Some refer to this as entertainmerce.
Live stream shopping has already become a multi-billion dollar experience in Asia. A recent Chinese consumer report stated that "consumers find the Livestream shopping experiences more social and interactive, and market growth numbers reflect their engagement".
As a result, it was only a matter of time before the trend started making its way over to the world's western part.
LIVE SHOPPING PLATFORMS
SPIN LIVE
Known as the number one retail tech start-up to watch in 2020, Spin Live is a shopping-first, shopping-only social network which focuses on product discovery and impulse purchases through highly interactive, playful live streams. The merchandising, checkout, payment and community is a unique, seamless video experience.
According to Co, "after just four months, Spin Live is signing up between 20 to 40 new brands and retailers each day, fuelling a 45% weekly, live merchant growth rate". One of the main reason for this speedy growth is their partnership with e-commerce platform Shopify. Shopify's payment platform now offers a plug-and-play solution for members of its million-merchant network to integrate with Spin Live.
Spin Live promises merchants no social media algorithms to beat, and no big advertising budget required. While for influencers, they offer no more juggling multiple affiliate programs, no more guilty hashtagging for #promo posts and getting paid for going live with their favourite products.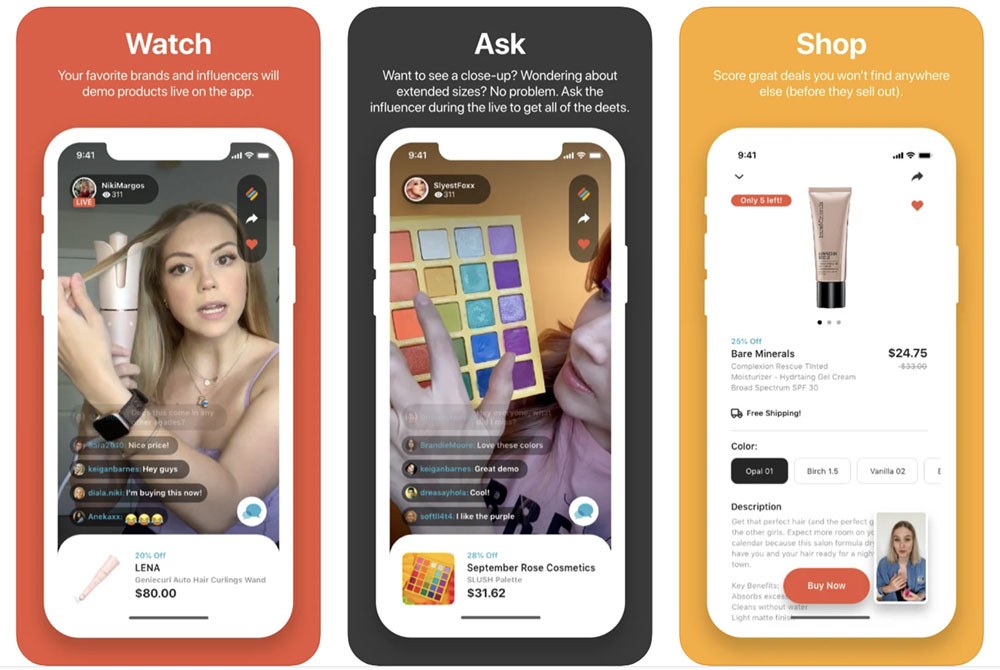 NTWRK
Next is NTWRK. Also unique in a way. NTWRK is not so focused on live streaming but instead making "daily episodes" of shoppable content, featuring exclusive products and original content from world-class creators.
The app works based on broadcasting shoppable video directly to your smartphone and delivering exclusive products from your favourite artists. In times of lockdown, NTWRK also invites users to digital events featuring live interactive panels and musical performances.
This mobile-first video shopping platform has a lot to offer, with its seamless combination of entertainment and e-commerce.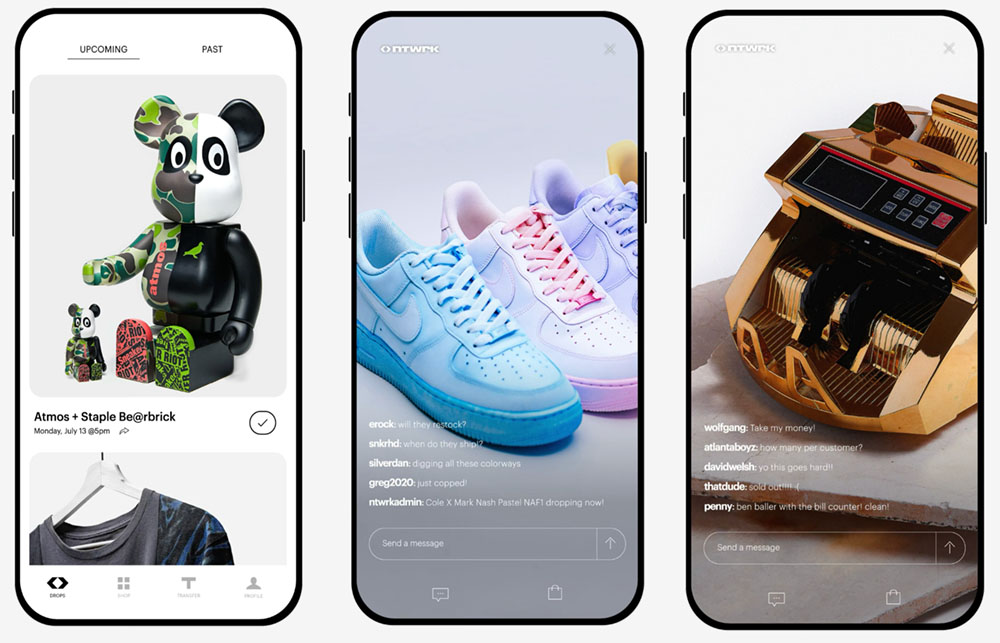 AMAZON LIVE CREATOR APP
E-commerce giant Amazon has recently announced they will also be releasing their Live Creator App. They were targeted explicitly towards influencers, with Amazon's influencer programme. Amazon allows brands to work closely with influencers (specifically live streamers) to increase brand awareness and boost sales and leads.
Some of the benefits of joining this programme include rewards. When influencers stream more, they earn more. Influencers and creators start with a "rising star" status but can earn an "A-list" status if their products show up on the Amazon homepage.
Additionally, when influencers go live, followers are notified, and their stream automatically appears on user's influencer page. The more influencers sell during their live stream, the more commission they earn (on top of what brands already pay).
Fitness influencer Corey Calliet, and lifestyle influencer Shea Whitney, have already started selling various brand products, using the Live Creator App.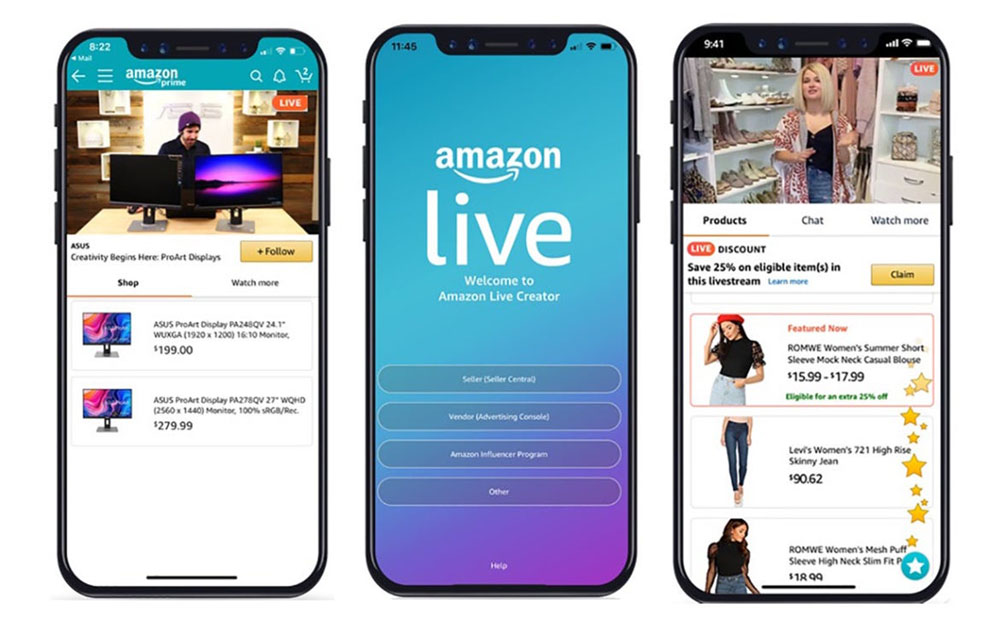 INSTAGRAM LIVE
Facebook-owned Instagram has also been testing a live shopping experience, where brands and creators can show off products in a live video feed, while consumers can purchase in real-time. Instagram Live Shopping is now available to all sellers in the US.
According to Tech Crunch, "We've seen live shopping take off in other parts of the world," said Instagram's vice president of product Vishal Shah. "The pandemic has changed behaviour from a consumer perspective, so we're moving as fast as we can to bring out these tools to help businesses respond."
IN CONCLUSION
Livestream shopping is continuing to rise and deliver a positive ROI. According to Entrepreneur, 47% of live-streaming viewers worldwide watched more live videos than the previous year.
Additionally, influencer marketing has been proven to work for brands, with 90% of marketers stating that ROI from influencer marketing is comparable to or better than traditional marketing channels.
The first half of 2021 should be a good indicator of how popular Livestream shopping will become. At the moment, there is great potential out there, with many new apps like Spin Live and NTWRK which offer exclusivity and variety. To become better prepared, we recommend that brands adjust their influencer marketing strategies to include Livestream shopping.