Adhering to social distancing rules and the #createdontcontaminate movement on social media, we recently interviewed Claire Buckley – the owner and managing director of Buck & Hound, a creative agency based in Dublin.
This small but fierce company specialises in branding, PR, social media and event management. It's one of Dublin's industry leaders since 2016. However, Buck & Hound stands for much more than just good business. The brand has endured tackling the most unspoken of taboo topics and doing so with a brave heart (and an excellent Instagram account to prove it all).
Why did you decide to start-up a PR and social media agency?
"I don't think it was a decision I ever made, it happened organically. I never remember taking this massive leap of faith or having to make this life-altering decision. It was all small organic steps towards the boutique agency I run now. I had a brief experience working for an Irish fashion eCommerce website. I was working there for four days a week and freelancing on Friday. I just loved my "freelance Fridays". I had a couple of clients with small budgets. Then, I won a big client and that, I guess, was the short leap of faith. It's called Buck & Hound because, at the time, it was me Claire Buckley and my little dog in my home office, saying "Ooh, I hope this works out!"
How did you become one of the leading creative agencies in Dublin?
"I always had a clear vision of what I wanted it to be. We like to think that we stand toe-to-toe with the big PR's in the city, also we really love working with brands that have a higher purpose or are generating awareness around things that matter. Sometimes, when it's a little bit more than just the consumer you know "rat race", great conversations can happen because of that. It is a business at the end of the day, but there is also room to add value in people's lives in a more bespoke way. I think I have also succeeded in creating a very flexible and inclusive forward-thinking working environment, and that is not easy to find in our industry."
"We really love working with brands that have a higher purpose or are generating awareness around things that matter.
Social Media for a greater cause
Just over 68% of businesses in Ireland use social media. However, compared to other countries in the EU, this is quite good. In the UK, this number has also been steadily growing since 2012, with 67% of companies using these channels. According to EcomCovid19, the eCommerce industry as a whole appears to be very stable, showing long-term sales growth despite events regarding the pandemic.
What defines a successful strategy for social media?
"Don't soapbox! You have to think of social media as any good relationship. If all you do is talking about yourself, eventually, the relationship is going to fizzle out. If you are not engaging, embracing community, asking opinions, the relationship is not going to work. One crucial aspect of social proofing is "birds of a feather flock together". You do as your friends do. We don't only talk about ourselves and our clients.
You need to be able to reach different types of people that share similar values. They should also be the sort of people that you want to work with and get referrals from. My aim, when I set up Buck & Hound was to make Instagram my tool as much as I could. It's excellent in terms of leverage. Especially, when you are talking to influencers and someone is trying to charge you and only have a few thousand more followers than you. This allows you to deal with them on a more even basis, and hence better leverage. It showcases your skills to clients. It's also great for lead generation, it has led us to new business, which is fantastic."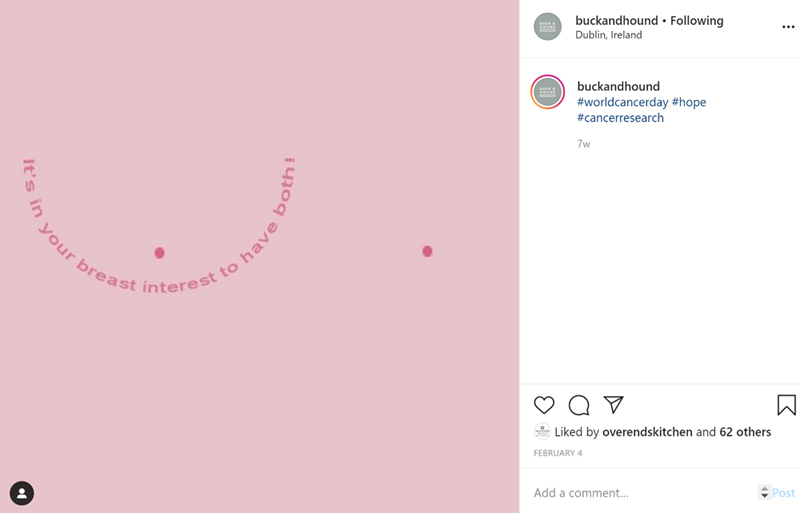 Buck & Hound looks to be involved in a lot of unspoken and taboo topics. Recently you were involved in a great campaign together with @plutotheagency, the @dublinrapecrisis and 20 of Ireland's leading TikTokkers to raise awareness and educate the Irish youth about sexual consent.
Can you tell us a little bit more about this campaign and how it all came about?
"We learned a lot working with the Dublin Rape Crisis Centre. They are widely under-funded. If they didn't exist, there would be nobody to accompany victims of abuse to the police or the courts. They provide a 24-hour nationwide hotline, and incredibly dedicated individuals handle that. They're amazing people to work with.
Every expert that you speak to has identified that the sexual consent knowledge gap, is sitting within the 16 – 22-year-old demographic, and TikTok is the medium that that demographic just eat, breath and sleep. So, we decided to create content with some of the most influential creators on the platform in Ireland – the most likely to resonate with that group and simultaneously educate. We held a voluntary workshop with them to educate them on the topic, but they had free range. We were not trying to be prescriptive. Whether they wanted to dance or chat to the camera, we just said go for it! Because that is why they are one of the most influential Tik Tokkers in the country.
"The reach of the campaign is 37 million to date."
The slogan was #100consent: If you aren't 100% then it is not consented so stop, and that applies for both sides. The main idea was to educate and focus on the youth with the help of these young bright content creators as our ambassadors. The reach of the campaign is 37 million to date. And, you know, if this changes the mind of -at least- one of their followers, great. What fantastic movement to be a part of."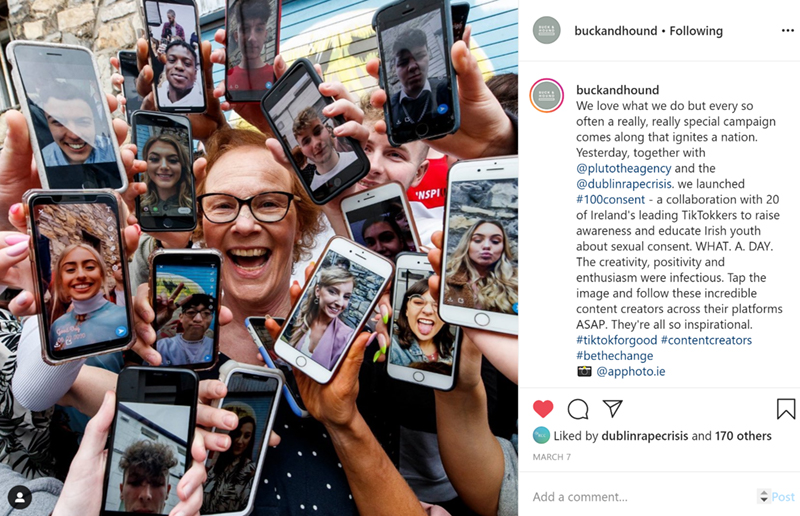 You have also been involved in other topical campaigns and supported other businesses by sharing their campaigns on your social media. We came across an environmental issue campaign on your Instagram, focusing on reducing your CO2 footprint in collab with @sprezzaturadublin and @mossy.earth
Could you tell us more about the collaboration between Sprezzatura and Mossy Earth?
"Sprezzatura is one of our clients, and they have several different restaurants in Ireland. Again they try to live by a very sustainable business model: entirely paperless, no menus. The idea behind this campaign was basically to help people get rid off their CO2 emissions by buying a tree with their bill. So, what Sprezzatura has done is that they have purchased some trees in bulk. When a customer chooses to add a tree to their bill they get GPS coordinates, and a picture of their sapling emailed, and you can go and visit your sprout in the wilds of County Clare in Ireland. This is the first restaurant in Ireland doing this. The campaign is still ongoing, and unfortunately, the restaurant is currently closed, but to date, we have approximately sold 100 trees. The Mossy Earth company was a perfect match for this campaign."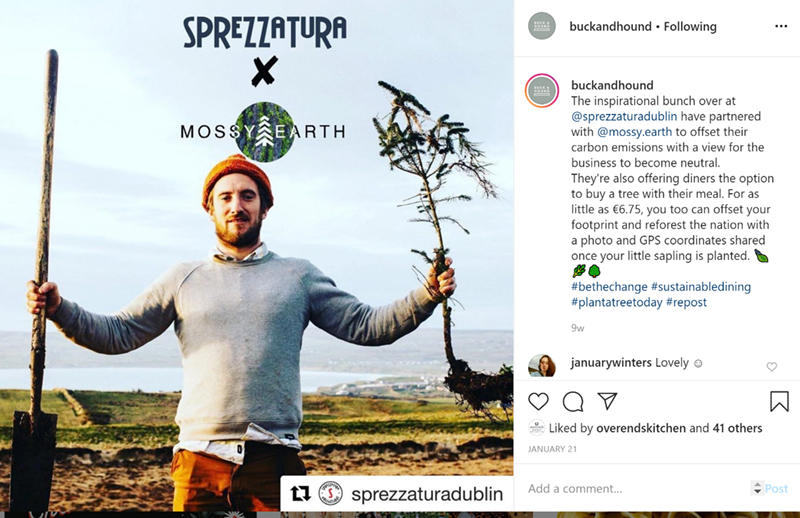 Do you feel like other brands are doing enough to speak about these topics? Especially in times like this?
"From our side, it is easier because we are a smaller company and there is no red tape. I am the red tape! I love to speak out about such topics. Larger corporations do an awful lot, albeit on the quite, and some are involved in great social initiatives, making a massive difference in that way. I think everyone has a different way of participating in these topics.
For us, it all comes down to choice. And I would like to see larger companies become more vocal in the future, and I think some of them already are, slowly but surely. We would like to believe that the rationale behind that is pure, and it's not just a box-ticking exercise. But at the end of the day, there is always more that we can do."
Marketing Strategy in times of COVID-19
On March 20th, even the prominent magazine Forbes published an article addressing how companies will turn to digital marketing strategies to survive Covid19. The report stresses how the key is resilience and adaptation to mitigate the losses caused by this pandemic. At the heart of this, a good digital marketing strategy is critical.
You have recently reimagined and updated the Buck & Hound website, how important do you think brand uniformity is online?
"I can't stress enough how vital the uniformity of branding is. It needs to be clean, recognizable, but it also needs to have flexibility. When a company is looking to re-brand, you should always strip it right back and always start with what the story of the business is – the authentic truth. Cut out all the nonsense and bring it all back to the simplicity of it. Change is inevitable, and your brand should have the ability to mould itself in every scenario and environment. Especially when it comes to different media outlets and various demographics. Having one logo that never budges and achieves all the variables, that's for the likes of Nike, McDonald's and Apple. And that takes a lot; it takes a considerable amount of resources and spends to achieve this."
According to Adobe CMO, the use of AI and the data market has allowed companies to make sense of vast amounts of consumer information in real-time. Data collection will grow by 61% by 2025 worldwide, and 40% of the marketing industry will prioritize data-driven decisions. This is higher than in any other sectors. We recently published an article on the importance of data-driven marketing and AI.
What is your view on data-driven marketing? Do you utilise these strategies?
"We are particularly very data-driven. For us, data informs all of our strategies. They generate all the insights that justify the tactics that we recommend. We do try and give them ground. I think when it comes to consumer insights and behaviours, data is very important. There is no substituting experience for sure. There are some things you just know are going to work. But being able to justify your actions, especially to new clients, to give them context and facts, is vital. It makes a big difference."
Where do you see the role of digital marketing in the future?
"If the current pandemic is anything to go by, then, it's clear that a brands' digital presence has never been more vital. Brands that don't have a strong digital presence right now are struggling. The businesses without robust eCommerce are fighting an uphill battle. Unfortunately, for some companies, this wasn't a focus previously, and this could be one of the things that come out of this: The imperative of a strong digital marketing strategy to future proof your business.
More than ever, companies need to be able to rethink their purpose in terms of supporting those affected the most by the current pandemic. We always try to be advocates for positive change. We like to think of ourselves as a glass bottle-using, metal straw sucking, keep cups sipping, plant desk watering, green commuting, recycle loving, paperless office. We know we are not at save the planet level, but we do think that making these small conscious decisions are significant in doing our part. It's not about keeping an eye on the timesheets anymore. It's really about how we can add value, retain business and support in a more significant way and potentially not all for profit."
––––––––––
Aleksandra Michniewicz specializes in content for a variety of industries like tech, lifestyle, fashion and finance.
.