Children's book publisher Usborne has one central purpose: to spark children's curiosity. Kids are naturally irrepressibly inquisitive, asking over 400 questions a week, on average. Usborne's' books enable children to investigate and discover answers for themselves, expanding their minds whilst inspiring confidence. Kids love that the books never talk down to them, and parents appreciate that they can trust Usborne to guide children on a journey of wonder and exploration.
Our first step was to apply some Usborne philosophies: unapologetically kid-centric, making knowledge irresistible and meticulously crafted. These values became the backbone of our project, central to the challenge of redesigning the Usborne website by digitally transforming a brand known and loved by families the world over.
The Usborne's project had many complex and technical areas to tackle, but, over time, it became more colourful and exciting. Usborne needed a global website with local stores to serve diverse global audience groups. The e-commerce area housed book details, pricing, stock, delivery information, reviews, plus other items.
The online e-commerce journey is fuelled with engaging content from blog posts, videos, audio clips, downloadable activity sheets and the Quicklinks library of over 40,000 links to carefully selected and curated (external) websites, which complement and add value to Usborne books. In addition, over 11,000 self-employed Independent Usborne Organisers, selling Usborne books directly to consumers in their communities (in person and via social media), needed the ability to create and curate their own custom storefronts.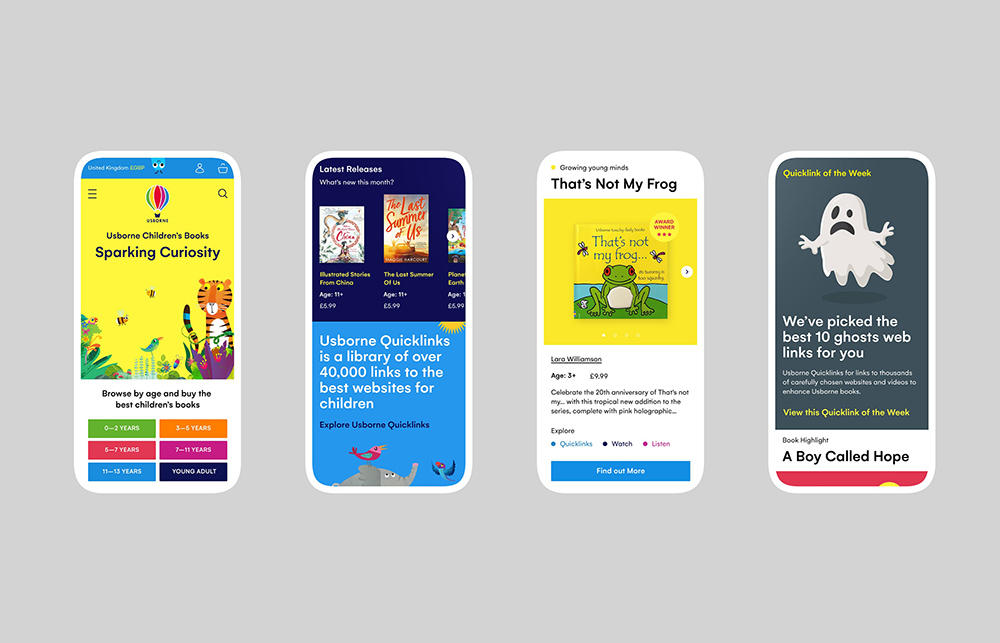 Strategy: Sparking Curiosity – The discovery phase
An extensive project discovery phase, which engaged with key business stakeholders, outlined and refined the new platform's requirements. It helped overcome the structural challenge of migrating the content and services by bringing together multiple existing websites. The discovery sessions provided an opportunity for staff from various departments and divisions to openly express their requirements and discuss their visions for the new site. The decisions were then relayed back to Peter Usborne (owner-founder) and the senior team.
We helped define, interpret and implement their company brand values to produce a new digital platform that reinforces Usborne's' core belief: "Sparking Curiosity". The result offers a playful experience crafted with care and makes exploration irresistible. The new visual language formed the basis of the project and is reflected throughout the process.
"When we began the discovery phase, we had a direction for the brand project in place. Our Brand Guidelines were yet to be finalised –we were in the process of updating our logo, defined brand colours and illustrative style. Mike (Superb) helped us to take that to the next level.

He reacted to our brief, taking time to understand what we wanted to achieve. Then, he applied his talent and experience to create a design which is beautiful, captures our brand essence perfectly, and is hopefully a joy for our community to engage with."

Anna Howorth, Director of Global Branding and UK Marketing at Usborne Publishing.
The creation of personas allowed us to shape the user journeys for defined groups of users. The bright and bold Usborne brand colours were incorporated into the design to provide clear signposting for the website's key sections. When applied in an online context, the visual style and detail level that go into the Usborne books create a friendly and inviting browsing experience. In addition, content and resources were optimised to support the e-commerce journey to offer a seamless browsing experience across all devices.
"Superb's organic, friendly approach, which felt very personal to us, our business needs and ways of working, was great. Throughout the process, they have been inspirational, motivational, pushed us outside our comfort zones when appropriate, and always take time to listen to our concerns as well as our aspirations".

Anna Howorth, Director of Global Branding and UK Marketing at Usborne Publishing.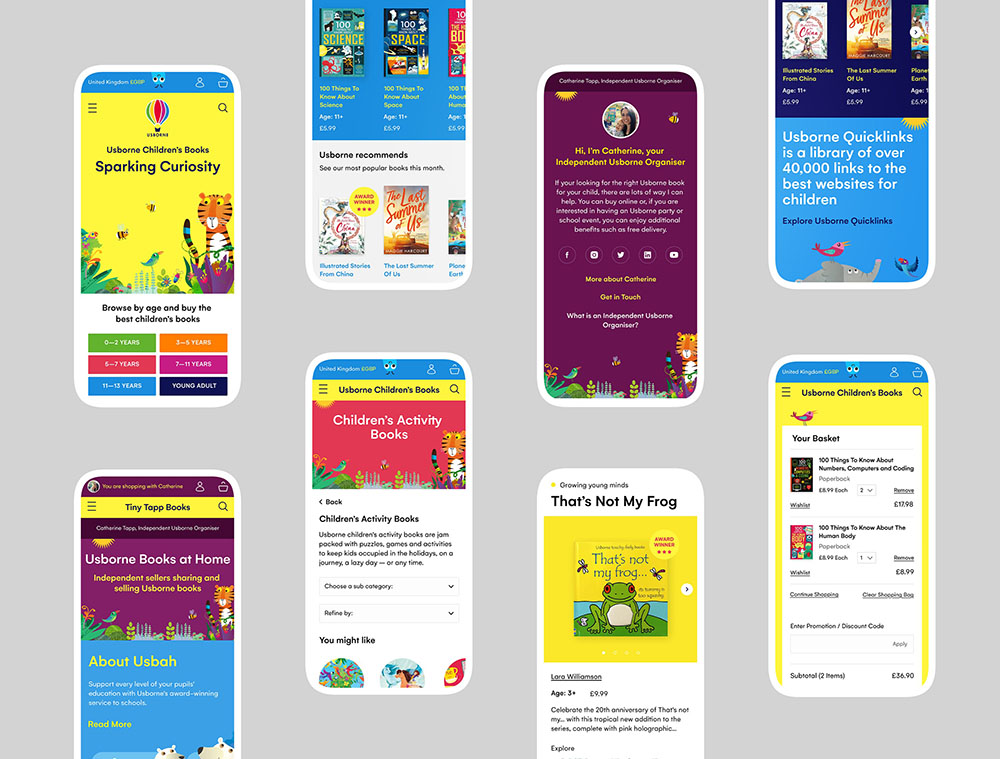 Results: A meticulously crafted website and digital identity
Since the launch in November 2020, the metrics and KPIs have been very positive. The new site's engagement is solid, sessions are up 145%, and there has been a 20% reduction in bounce rate. In addition, the e-commerce conversion rate has increased by 128% through a 460% increase in transactions and, combined with an improved AOV, a 692% revenue increase.
The final results are a reflection of Usborne pillars:
Meticulously crafted: When creating the new website, care, time and attention were placed into each stage – from the discovery phase through the design process, delivery and testing.
Unapologetically kid-centric: The site is aimed primarily at parents and teachers; it is also child-friendly with Activities for Kids and an incredible library of over 40,000 quick links. Everything is presented in bright colours, easy-to-read fonts, a friendly tone of voice, and many illustrations.
Making knowledge irresistible: Bring Usborne Quicklinks into the main website to supplement online content with video, audio, games, quizzes and more.
Growing young minds: The new website enables the brand to attract more families to the brand and the books on a larger scale.
Building on Usborne's' values and visual identity, we used a combination of teamwork, innovation, intuitive design, and eCommerce expertise to deliver the website. As a result, we exceeded the expectations, and the general feedback was unanimously positive:
"The way the new site reflects not only what we sell, but what we represent and who we seem to have gone down brilliantly. As a company that makes books for kids, we know the importance of 'show, don't tell'. Our new website doesn't spell out our brand values, but they are there on every page."

Anna Howorth, Director of Global Branding and UK Marketing at Usborne Publishing.
Project Leaders:
Lisa Watts – Director of Digital Development at Usborne Publishing
Matt Bugler – Digital Editor at Usborne Publishing
Anna Howorth – Director of Global Branding and UK Marketing at Usborne Publishing
Edward Lewis – Head of eCommerce, Superb Media
Mike Sullivan – Design Director, Superb Media