With the closure of physical stores and cancellations of events, social media, and other online channels, are now the key places where brands can engage with consumers. The online behaviours that users are adopting right now will undoubtedly become engrained in their everyday lives.
For instance, Nike recently announced that they expect its digital revenue to account for 30% of its overall 2021 income. Meanwhile, Inditex (the company that runs Zara, H&M and similar brands) announced they would close thousands of stores globally over the next two years. At the same time, Inditex also announced plans to grow its eCommerce platform investing 3 billion dollars into it within the next three years.
Conversely, we also know that usage is growing across every social media channel. Forbes reported that there had been a 61% increase in social media usage across platforms, as compared to the typical average during the pandemic.
As part of the Stylus Trends Intelligence Summit, we attended the talk "Social Commerce 2021 and the importance of a 'Shoppable Storytelling' strategy" by Marie La France, Vice President of Strategy at Dash Hudson. The following comes directly from the insightful presentation delivered by Dash Hudson.
A DIGITAL ENVIRONMENT HEAVILY SATURATED
90% of the world's data has been gathered in the last two years. In a digital environment so heavily saturated, how can a brand stand out? If consumers aren't able to engage with your product in person or have a real-life experience with your brand, how can you capture their attention amidst the digital noise?
These are some of the questions brands need to ask themselves moving into 2021. It is forecasted that offline sales will return to pre-pandemic levels, only after five years or more. Meanwhile, online sales are projected to jump 18% (the original prediction was 13% in 2020).
Thus, e-commerce is not slowing down any time soon. So how can your brand storytelling best connect with the digital audience?
A STRATEGIC BRAND STORYTELLING APPROACH
This approach is fundamentally a socially-first visual strategy built with data. "Data provides contextual information about your brand and your community of followers, and that creates opportunities for conversions at every turn. When you incorporate AI, it gives brands an edge", explains Marie.
There are four significant steps to create a shoppable storytelling strategy;
Define your brand story
Tap into your community
Optimize with AI
Make every touchpoint shoppable
STEP ONE – DEFINE YOUR BRAND STRATEGY
First, when defining your brand story, one of the main questions to ask is how to stand out in a saturated market. Consistency in brand aesthetic and messaging is key. It's all about defining your brand story from a visual standpoint and keeping it consistent across channels. According to Forbes, a cohesive brand message across platforms has real ROI; it will increase revenue by up to 23%.
"When your social commerce strategy is rooted in your brand's values and visual identity it means that no matter where a consumer is coming into contact with your brand, whether on Instagram, your website or Amazon they will encounter a cohesive story", Marie adds.
STEP TWO – TAP INTO YOUR COMMUNITY
However, consistency does not equal broken repetition. On the contrary, being creative with your content within the realm of your brand goal is fundamental. This creativity and exploration of your brand story are where your community comes into play. This is a critical next step in the journey to creating a social-first commerce strategy.
Pinterest is an excellent example of where community meets strategy. "Pinterest can reap big rewards for brands. One thing is for sure, Pinners are planners", explains Marie.
Users come to Pinterest to inform their buying decisions, search for a product, or plan major spending sprees like a vacation or a wedding. 84% of active pinners say they use Pinterest to plan for purchases, and 98% said they purchased something because of Pinterest.
For example, BHLDN the US-based wedding dress retailer shot its Spring 2020 campaign two months ahead of schedule, partnered with influencers to create real-life inspiration content. With this strategy, the brand captured brides earlier in their dress shopping journey and thanks to access to real-time insights, BHLDN optimised each of their visual touchpoints with the imagery and dressed preferred by the online community. From ideation to measurement and analytics post-campaign launch, it was a total success. BHLDN has over ten plus million monthly active users and 402k followers.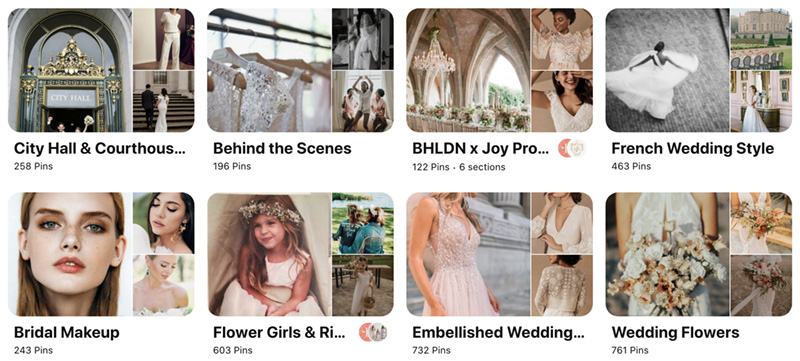 STEP THREE – OPTIMISE WITH AI
83% of US smartphone users find images to be "very and/or extremely influential" when shopping online. With this in mind, it is business-critical to be choosing the right visuals to optimise at every consumer touchpoint. In fact, the Visual Search market is expected to grow +9% by 2023, and brands that support visual and voice search would increase their digital revenue by 30%.
Dash Hudson' AI technology called "Vision" streamlines content management, surfaces visual trends, and even predicts how your content will perform (star, average or below-average performer) with your audience even before you publish it. Vision AI can link historical visual data across different touchpoints. As a result, it can predict what visuals your consumer will engage with best, whether it is organic or paid. 
The overall goal is to create a customer journey that is optimised at every turn. Every visual touchpoint from an organic social post to an ad, to imagery on-site, should be primed from a brand's unique audience. It should tell a cohesive story no matter which stage of the funnel the customer is coming into contact with your brand.
STEP FOUR – MAKE EVERY TOUCHPOINT SHOPPABLE
Instagram has now become an all-in-one funnel platform. From a magazine editorial or a billboard to a price checking and review engine. It's also a shopping cart and often a customer service channel. Instagram also easily enables users to shop your brand, whether it is through Instagram Shop, Checkout, Swipe-Up or Stories.
"20% of Gen Z and millennials will immediately lose interest in a brand if they don't like its Instagram. If you are not giving your Instagram strategy the investment and time, it deserves you can say goodbye to 20% of key demographics", Marie states.
Additionally, with the new release of Instagram Reels, brands can repurpose some of their Instagram content for TikTok, or vice versa. To generate a revenue stream from TikTok, there are many links in bio tools, for example, LikeShop, that easily allows consumers to find the products you are featuring in your TikTok videos, thus making TikTok completely shoppable.
CREATIVE MATTERS
According to Nielsen Catalina, 56% of the brand sales lift from digital advertising can be directly attributed to the quality of the creative. "The most successful brands are the ones that lead with a strong creative vision and then use data to inform their strategy", Marie explains.
Quality of the creative will be different for each brand. However, one thing brands will always have in common is staying true to their DNA, while resonating with their community and inspiring them to take action. With AI in your toolkit "creative teams can use real engagement data from their audiences to determine which selects will yield best results, the real alchemy happens with the strategic combination of AI and human instinct", Marie concludes.
———-
Aleksandra Michniewicz specializes in copywriting and content creation for companies in a variety of industries like tech, lifestyle, fashion and finance.