Mother's Day in the UK is unique and highly celebrated. The holiday itself is linked to Easter, which falls on a different day each year; hence Mother's Day always falls on the fourth Sunday during Lent's period.
In previous years, Mother's Day spending in the UK was high, with over £260 million British pounds was spent on flower gifts and £1.8 billion on personal services like spa treatments.
But, according to Business Wire, due to the COVID-19 outbreak, "Mother's Day retail penetration declined from 59.5% in 2019 to 53.7%, as consumers were urged to stay home and many were unable to celebrate the occasion with their families".
This year, big British brands like Littlewoods, Very.co.uk, Sainsbury's and Waitrose will offer customers the option to opt-out of Mother's Day reminders. "We've done it because we know it can be a difficult day for lots of people. Given the events of the last year, it's even more important that we're sensitive to our customers' feelings", explains Carly O'Brien, Chief Marketing Officer at The Very Group.
So, with the rising trend of opting-out of Mother's Day by consumers this year, how are some brands still choosing to approach the holiday in 2021? Let's take a look at some fine examples from unapologetically British brands.
CHILDRENSALON
Childrensalon is one of the world's largest online designer, childrenswear retailers. It was founded in the fifties by Sybil Harriman and her husband. What started with a small brick and mortar shop in Royal Tunbridge, Wells expanded to almost 130 countries worldwide.
Although Childrensalon hasn't specifically launched a Mother's Day campaign, its content strategy is mother centric. With another whirlwind year, we feel this subtle way of creating content around mothers and family lifestyles is a great strategy to approach the holiday this year.
For example, their content, specifically their blog section, focuses on various topics like best parenting books for expecting parents, babies in 2021, top 5 tips for healthy eating during pregnancy and many more. Sharing this content across different touchpoints like social media will organically attract families to celebrate Mother's Day with the help of Childrensalon.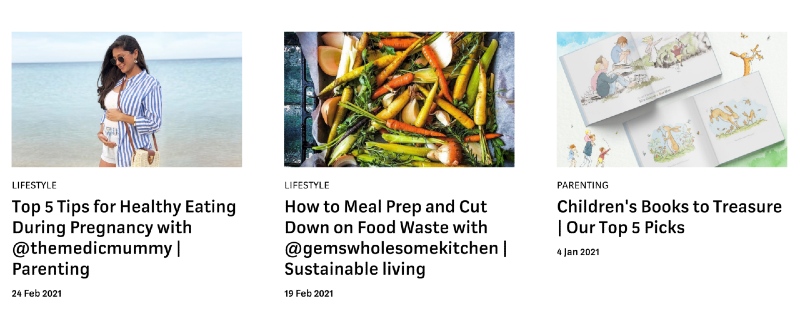 PORTMEIRION
One of the most recognized tableware, cookware and gifts brand, Portmeirion, was founded by the legendary ceramic designer Susan Williams-Ellis in 1960. Portmeirion's timeless pieces fit comfortably with the daily life of today's consumer.
With that in mind, Portmeirion decided to focus on creating helpful content for Mother's Day this year with their " 8 Beautiful Mother's Day Gift Ideas" blog. The main focus is to acknowledge the different types of mothers, such as the nature-loving mom, the mom on the go, the glamorous mom and many more.
At the end of the article, readers are encouraged to share what Mother's Day gift idea they chose by tagging Portmeirion on Instagram. This is a great tactic to get their community involved and active on social media channels.
FOREVER UNIQUE
Forever Unique is a luxury fashion brand specializing in women's casual wear. Created by Seema Malhotra and her husband Sandeep in 2008, Forever Unique is the alternative for accessible and affordable pieces.
As part of their Mother's Day campaign, the brand collaborated with influencers @tanyabardsley7> and @gabsxbardsleyxx on Instagram. The campaign focused on the "match your mom" look and ties in with Valentine's Day.
With over 235k followers on Instagram, Forever Unique's digital strategy approach for Mother's Day is on point.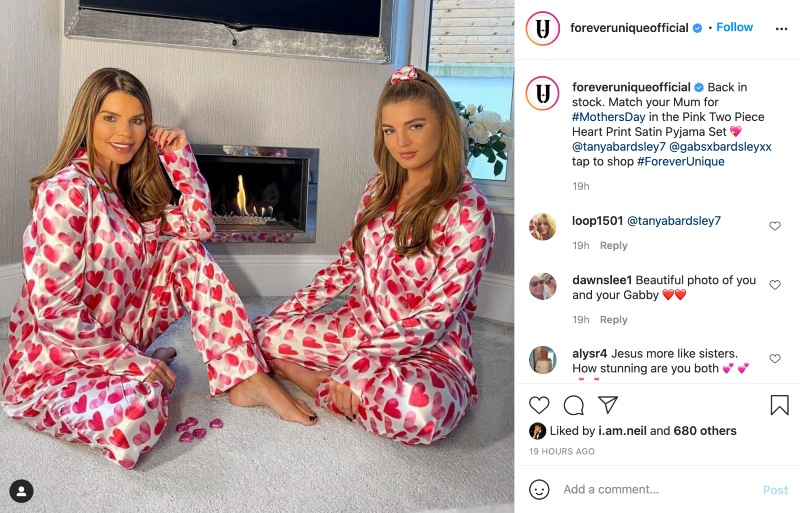 WAX LYRICAL
With 40 years of experience, Wax Lyrical is the largest home fragrance company in the UK. Their fragrances are developed in-house, working together with the best perfume houses in Europe.
This year, for their Mother's Day strategy, Wax Lyrical focused on various touchpoints like their social media, blog, and eCommerce store. They subtly invited their customers to view their "Mother's Day Inspiration" eCommerce store, which they combined with their Mother's Day blog.
All this is visible on the Instagram account, where they launched a campaign to encourage customers further to view their site blog and eCommerce store. Simple yet effective, Wax Lyrical demonstrates the importance of omnichannel uniformity.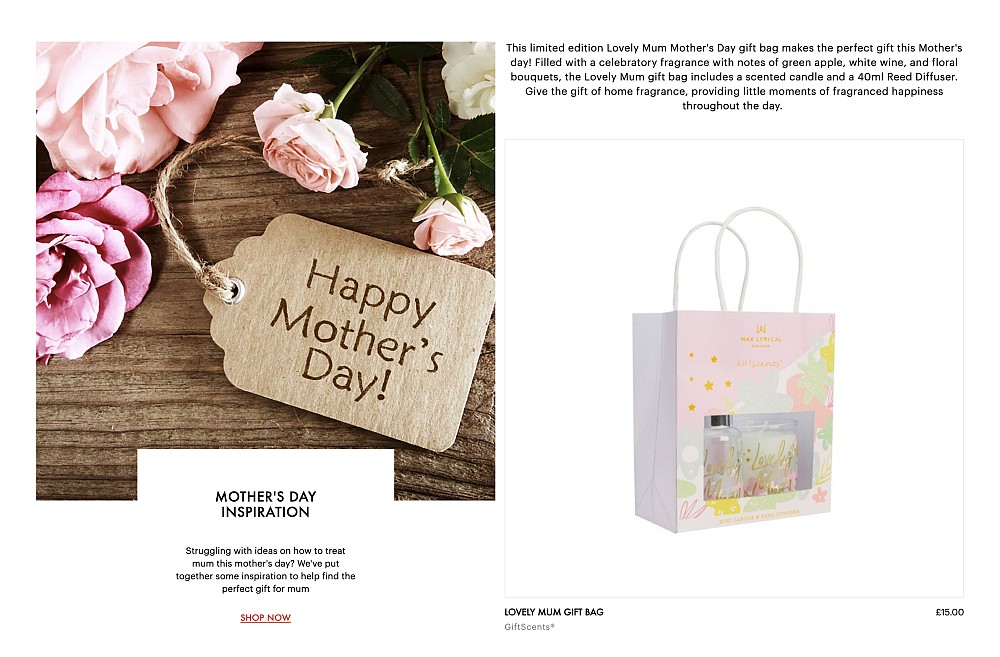 COUVERTURE & THE GARBSTORE
Known as London's hidden gem, Couverture & The Garbstore was conceived as a creative concept in 2008 by Emily Dyson and Ian Paley. Since then, the store has stood out for its eclectic and modern selection of men's and women's clothing and household items.
For their Mother's Day strategy, the eclectic British brand decided to focus on a more shoppable approach. Their website header welcomes the customer to the "Mother's Day Gifts" store and blog.
Like other brands mentioned above, their journal section features a comprehensive gift guide for Mother's Day. Still, what's unique about this guide, is at the end, you can "Shop the Story", where a small eCommerce store is shown with lots of exciting products.
We love the idea of a shoppable blog for Mother's Day and found this unique as many brands now turn to social commerce to make their products shoppable. Couverture & The Garbstore is taking it back to the basic but adding in an engaging eCommerce twist.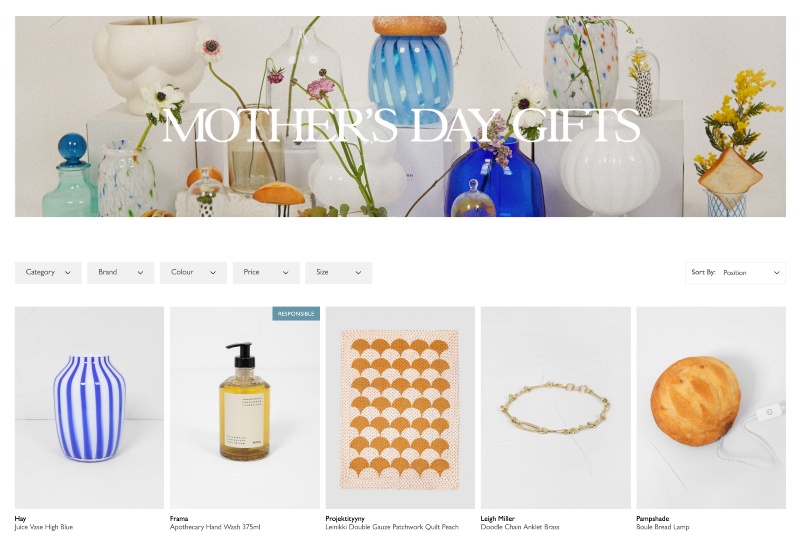 OUR TAKEAWAY…
This year keep it simple and subtle, don't oversell. Remember to offer your customers an opt-out option from Mother's Day emails and reminders.
To drive engagement, curate helpful blogs and social media posts. Make the purchasing journey seamless for your consumer and make your blog shoppable or make sure to have a clear call to action directing the customer to your site's eCommerce store.
At Superb, we specialize in digital marketing and eCommerce solutions for your brand. Don't hesitate to visit our website to view more of our work or contact us to discuss your brand's online growth opportunities.